Chicken Satay with Coconut, Greens and Rice
Protein and calorie dense meal
Intermediate

Main or lunch meal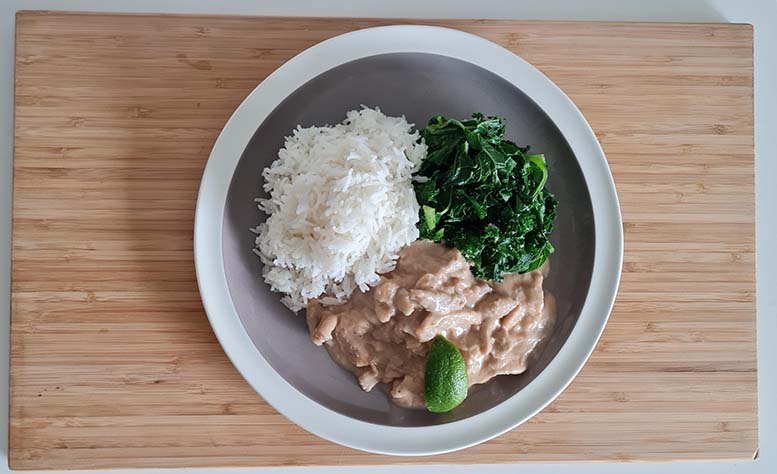 1 of 3 images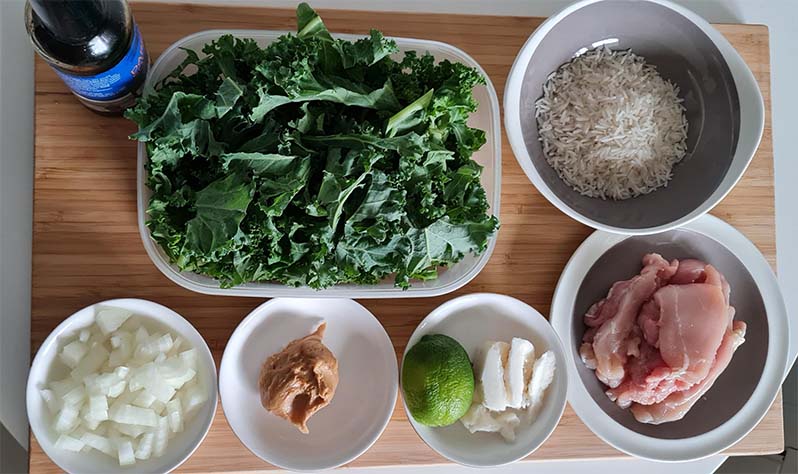 2 of 3 images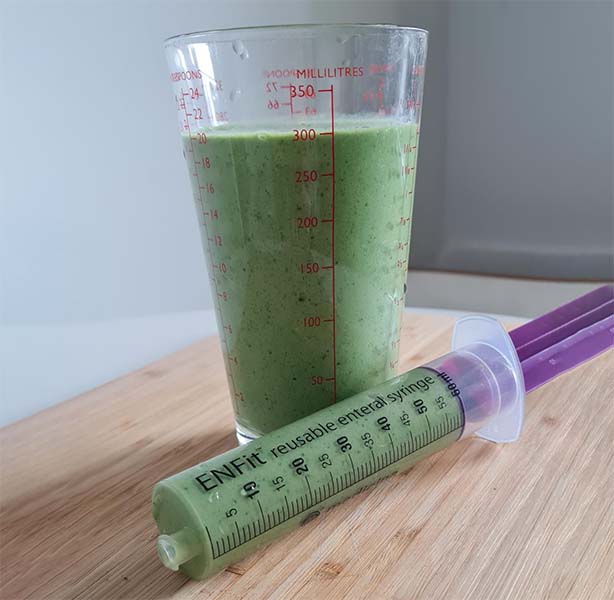 3 of 3 images
Allergens:
Contains nuts and soya
Some soy sauces may contain wheat

Egg-Free

Milk-Free
Modifications
Equipment
Preparation
Note that if modifications are made this may alter the state and nutritional value of the recipe. It is the responsibility of the caregiver to ensure the consistency of the feed is appropriate. Aim for a texture similar to pancake batter or drinking yogurt.
Vegan option: replace chicken with 100g cooked/tinned chickpeas or 100g tofu.
Swap kale for spinach if more convenient.
Add more vegetables depending on preference.
Use ready cooked, microwavable rice for super quick option.
Hand or jug blender
Sieve
2 x saucepans
Timings
Approx.: 45 mins
Preparation: 15 mins
Cooking: 30 mins
To make the perfect fluffy rice:
Rice has a reputation for being difficult to cook however I always use basmati and soak in warm water for 1 - 2 hours before cooking in lots of cold water and cook in boiling water.
If you are unlucky to have sticky rice at the end of this process, just rinse again quickly in water to wash any off starch.
Microwave rice also works well!
This recipe was designed for children. Your dietitian should help you calculate the right portion for your child. Some children may need smaller portions e.g. a half portion may be adequate for an older/teenage child.
Nutritional content:
732kcals, 49.3g protein, 38.4g fat, 46.1g carbohydrate, 4,3mg iron, 152mg calcium.
Portion Sizes
| | |
| --- | --- |
| Full portion/600ml/10 x 60ml syringes | = 732kcal/49.3g protein |
| Half portion/300ml/5 x 60ml syringes | = 366kcal/24.7g protein |
| Third portion/180g/3 x 60ml syringes | = 220kcal/14.8g protein |
Step 1
Heat oil (1 teaspoon) on a medium heat. Add the onion (1/4, diced) and cook for 2-3 mins, stirring occasionally.
Step 2
Add chicken (150g) and cook for 4-5 mins turning occasionally to brown lightly on all sides.
Step 3
Add creamed coconut (25g), peanut butter (25g), soy sauce (1 teaspoon) and water and slowly bring to the boil, stirring occasionally then reduce heat and simmer for 10 minutes (you should have a nice moderately thick sauce), remove from heat and add half of the optional lime juice (1/2 lime, juice only).
Step 4
Drain and rinse rice in lots of cold water before cooking in boiling water for about 10 mins and drain (50g uncooked basmati/long grain rice or 150g cooked, microwavable rice).
Step 5
Cook kale (70g, shredded) in boiling water or steam for 3-5 mins, remove from heat and add the remaining optional lime juice (1/2 lime, juice only).
Step 6
Allow to cool, then blend for 3 to 5 minutes with 220ml water - see below.
Blending Instructions
This recipe was blended with 220ml water to achieve a pancake batter consistency which yielded 600ml total blend (10 x 60ml syringes) however you may find you need slightly less fluid to blend as you become confident administering blends. Always sieve blends until you are confident you are achieving a completely smooth blend with no bits.
Freezing Instructions
Once blended, this meal can be frozen and used within one month. Defrost thoroughly and bring to room temperature before use. Water may need to be added to reach a pancake batter consistency. Consume with 24hrs of defrosting.
Tips
• Basmati rice is a low glycemic index carbohydrate compared to long-grain rice. Low glycemic foods help keep blood sugar levels steady and keep us fuller for longer.
• Brown rice takes longer to cook and remains firm to bite so best to avoid for blended meals.