Creamy Salmon with Spinach and Sweet Potatoes
Light dish, high in protein and healthy fats
Beginner

Main or lunch meal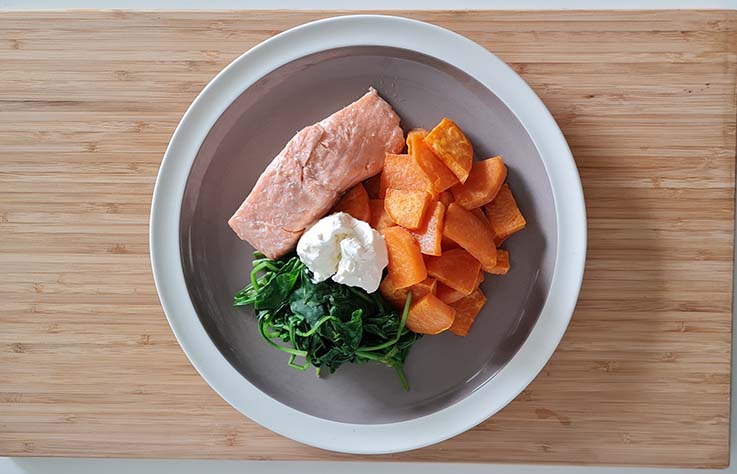 1 of 3 images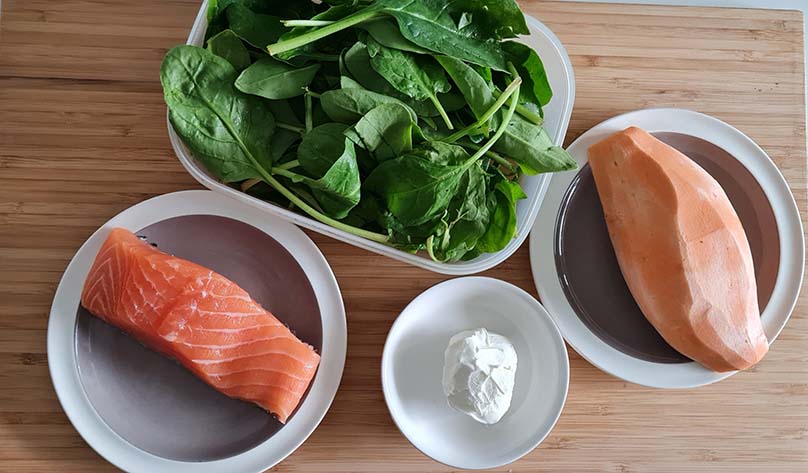 2 of 3 images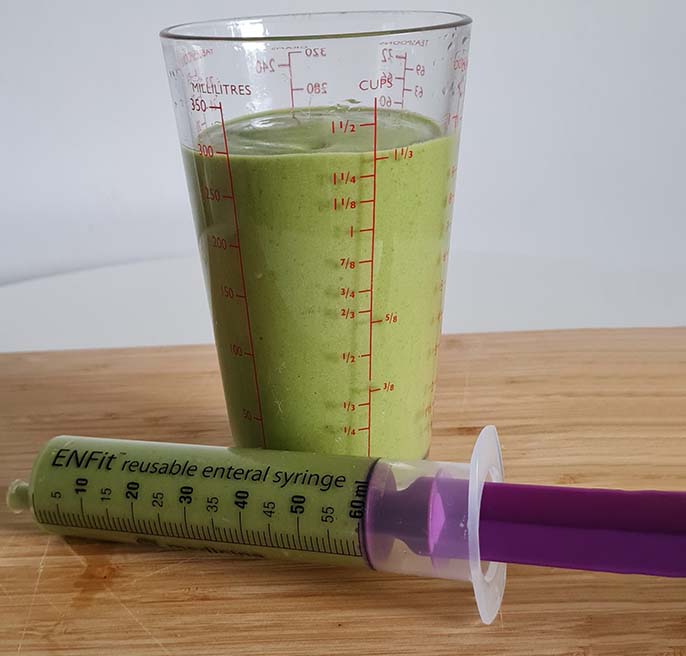 3 of 3 images
Allergens:
Contains fish and dairy

Egg-Free

Gluten-Free

Nut-Free
Modifications
Equipment
Preparation
Note that if modifications are made this may alter the state and nutritional value of the recipe. It is the responsibility of the caregiver to ensure the consistency of the feed is appropriate. Aim for a texture similar to pancake batter or drinking yogurt.
Replace fresh salmon with tinned salmon for an extra convenient meal.
Hand or jug blender
Sieve
Baking tray
Microwavable container
Timings
Approx.: 30 mins
Preparation: 10 mins
Cooking: 20 mins
This recipe was designed for children. Your dietitian should help you calculate the right portion for your child. Some children may need smaller portions e.g. a half portion may be adequate for an older/teenage child.
Nutritional content:
603kcals, 32.3g protein, 45.8g fat, 28.5g carbohydrate, 2.8mg iron, 151mg calcium.
Portion Sizes
| | |
| --- | --- |
| Full portion/600ml/10 x 60ml syringes | = 603kcal/32.3g protein |
| Half portion/300ml/5 x 60ml syringes | = 300kcal/16g protein |
| Third portion/180g/3 x 60ml syringes | = 181kcal/9.7g protein |
Step 1
Place sweet potato (1 small - medium sweet potato, peeled and sliced 2cm rounds) on baking tray, drizzle with oil (1 tablespoon) and bake at 170°C/fan/190°C/Gas 5 for 15 – 20 mins, turn once halfway.
Step 2
Meanwhile, wrap salmon (130g) in tin foil and oven cook at 170°C fan/190°C/Gas 5 for 12-15 mins - allow to cook in tin foil, keep any juice for blending.
Step 3
Place spinach (80g) in microwaveable container with lid rested on top in microwave and cook on high for approx. 1 min, keep any liquid for blending.
Step 4
Blend salmon, skin removed, sweet potato, spinach and cream cheese (20g) in for 3-5 minutes with 300ml water - see below.
Blending Instructions
This recipe was blended with 300ml water to achieve a pancake batter consistency which yielded 600ml total blend (10 x 60ml syringes) however you may find you need slightly less fluid to blend as you become confident administering blends. Always sieve blends until you are confident you are achieving a completely smooth blend with no bits.
Freezing Instructions
Once blended, this meal can be frozen and used within one month. Defrost thoroughly and bring to room temperature before use. Water may need to be added to reach a pancake batter consistency. Consume with 24hrs of defrosting.
Tips
• You may wish to include the salmon skin in your blend, it contains the same nutrition as the flesh but ensure you remove any scales before cooking.