Chickpea Curry with Rice
Quick, relatively easy vegan curry dish with mild spices.
Intermediate

Main or lunch meal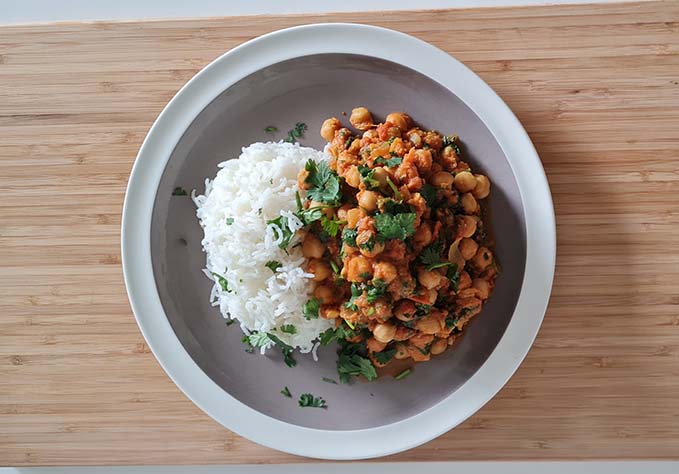 1 of 3 images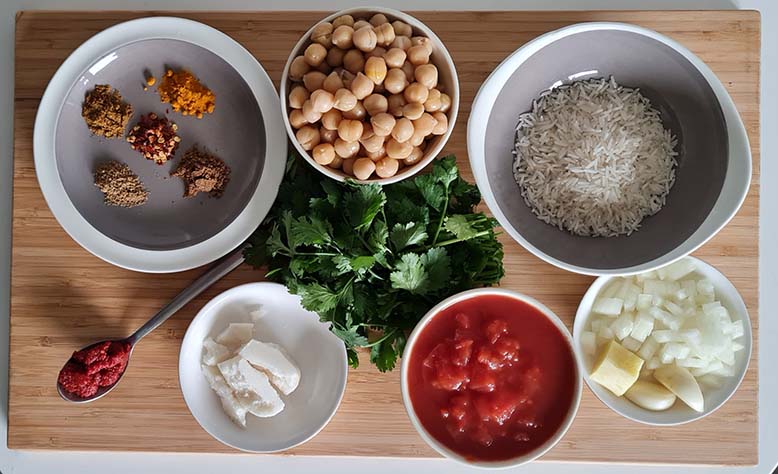 2 of 3 images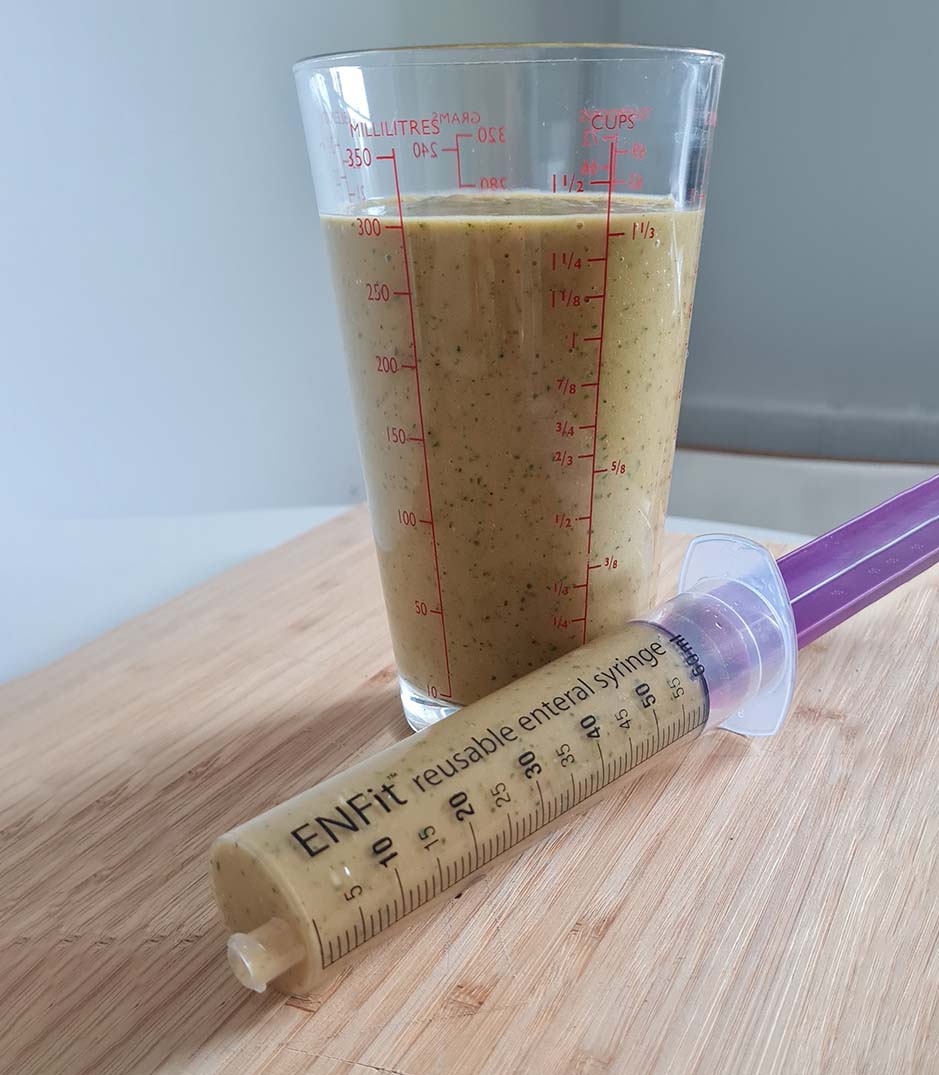 3 of 3 images
Allergens:
None

Egg-Free

Gluten-Free

Nut-Free

Milk-Free

Vegan
Modifications
Equipment
Preparation
Note that if modifications are made this may alter the state and nutritional value of the recipe. It is the responsibility of the caregiver to ensure the consistency of the feed is appropriate. Aim for a texture similar to pancake batter or drinking yogurt.
For extra calories, oil, yoghurt/dairy free yoghurt can be added.
Use ready cooked, microwavable rice for super quick option.
Hand or jug blender
Sieve
2 x saucepans
Timings
Approx.: 30 mins
Preparation: 10 minutes
Cooking: 20 minutes (Soak rice for up to one hour before cooking)
Tips
To achieve a fluffy rice texture, you may find it helpful to soak the rice in water prior to cooking.
This recipe was designed for children. Your dietitian should help you calculate the right portion for your child. Some children may need smaller portions e.g. a half portion may be adequate for an older/teenage child.
Nutritional content:
680kcals, 23.5g protein, 29.3g fat, 84g carbohydrate, 5.7mg iron, 147mg calcium.
Portion Sizes
| | |
| --- | --- |
| Full portion/700ml/11.5x60ml syringes | = 680kcal/29.3g protein |
| Half portion/350ml/6 x 60ml syringes | = 340kcal/14.7g protein |
| Third portion/230g/4 x 60ml syringes | = 224kcal/10g protein |
Step 1
Warm oil (1 teaspoon) in saucepan on a medium heat and add onion (1/4 onion sliced or diced), garlic (2 cloves garlic, chopped), ginger (1/2 thumb sized/5g ginger) and cook for 2-3 mins, stirring occasionally.
Step 2
Add chickpeas (200g), spices including chilli if using, chopped tomatoes (200g) and tomato puree (1 teaspoon) and stir. Once bubbling, reduce heat to low and cook for 3-5 mins.
Step 3
Add creamed coconut (25g block/creamed coconut) plus some water (approx. 50ml to prevent curry catching on base of saucepan) and cook for further 5 mins. Stir in chopped coriander (small handful).
Step 4
Allow to cool and add 150g cooked rice (see full instructions here) and blend for 3-5 minutes with 300ml water - see blending instructions below.
Blending Instructions
This recipe was blended with 300ml water to achieve a pancake batter consistency which yielded 700ml total blend (11.5 x 60ml syringes), however you may find you need slightly less fluid to blend as you become confident administering blends. Always sieve blends until you are confident you are achieving a completely smooth blend with no bits.
Freezing Instructions
Once blended, this meal can be frozen (if adding yoghurt, add once defrosted) and used within one month. Defrost thoroughly and bring to room temperature before use. Water may need to be added with the yogurt to reach a pancake batter consistency. Consume with 24hrs of defrosting.
Tips
• Basmati rice is a low glycemic index carbohydrate compared to long-grain rice. Low glycemic foods help keep blood sugar levels even and keep us fuller for longer. • Brown rice takes longer to cook and remains firm to bite so it's best to avoid this for blending.
• If you avoid chilli, this recipe is mildly spiced, however this is the first time having spices, you may want to use a pinch of each spice until you are confident your child can tolerate spicing. Spices are a good source of nutrients including vitamins and minerals.