Lemon and Blueberry Scones
Delicious and flavourful dish, perfect for a family celebration
Moderate

Celebration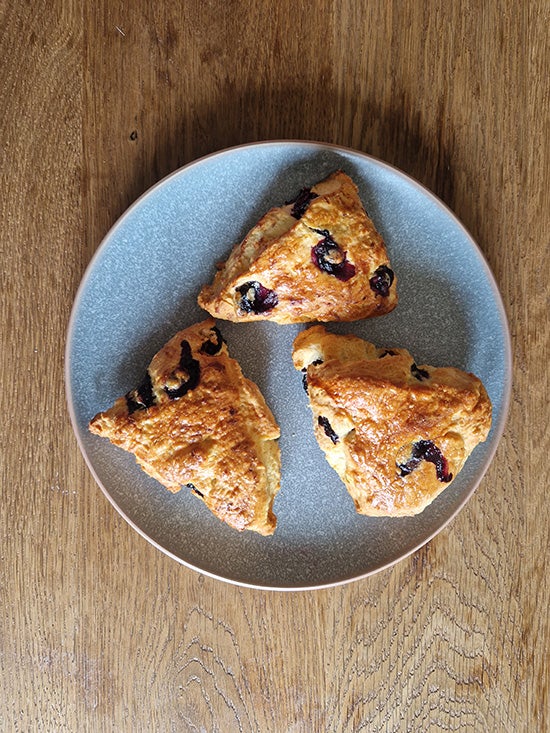 1 of 3 images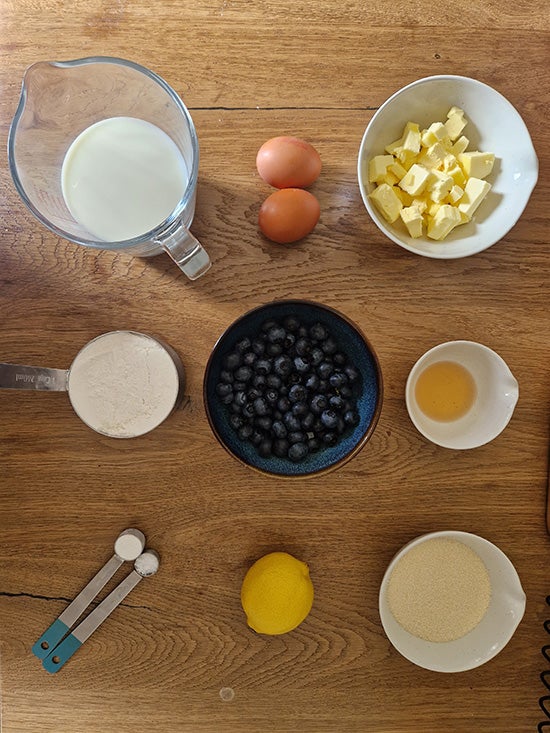 2 of 3 images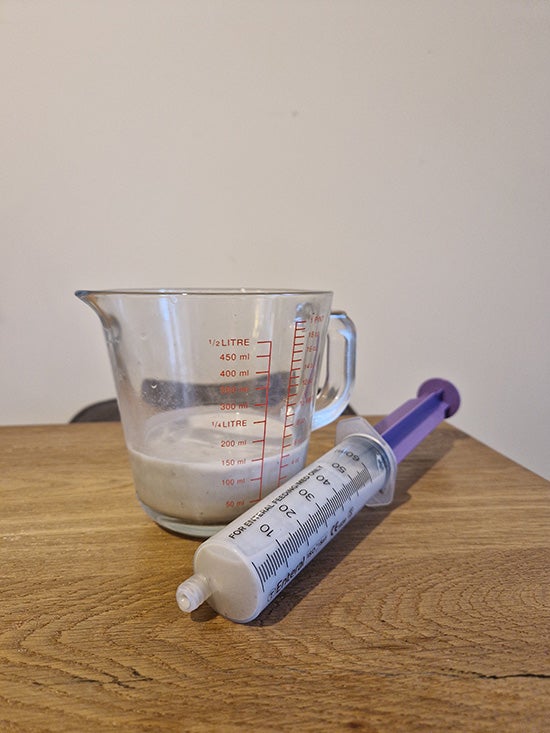 3 of 3 images
Ingredients Checklist:
Makes 16 scones
Total= 16 scones
16 servings of 1 scone each
Allergens:
Contains: Eggs, gluten, milk

Nut-free
Modifications
Equipment
Preparation
For extra calories, butter can be added or it can be blended with full fat milk
Oven
Blender (plus a sieve if not using a high powered blender)
Timings
Approx 45 minutes including cooking time
Nutritional content per scone:
284kcals, 5.3g protein, 15g fat, 32g carbohydrate, 0.28mg iron, 35mg calcium
Portion Sizes
| | |
| --- | --- |
| 1 portion | = 200ml milk + 1 scone |
| ~ 4x60ml syringes | = ~410kcal/ 12.5g protein |
*Your dietitian should help you calculate the right portion for your child, some children may need smaller portions e.g. a half portion may be adequate for an older/teenage child
Step 1
Preheat the oven to 200C (or 180C if using a fan assisted oven) and line a tray with baking paper
Step 2
Mix the wet ingredients together in a medium bowl, and mix the dry ingredients together in a large bowl
Step 3
Combine the dry ingredients with the butter- ensure the butter doesn't melt between your fingertips when combining
Step 4
Add the wet ingredients to the butter and flour mix. Make sure not to overwork the mix, or the scones will go flat!
Step 5
Transfer the mix across a lightly floured work surface, then sprinkle the blueberries across the top. Sprinkle with 1tbsp flour and carefully fold the mix, then split it into 2.
Step 6
Roll out each piece of dough into a disc, fold the dough over itself and repeat 4-5 times- make sure not to burst the blueberries.
Step 7
Cut each disc of dough into wedges, and transfer to a plate (cover with cling film) and freeze for 20minutes.
Step 8
Transfer the scones to the baking sheet and lightly brush with egg wash
Step 9
Bake for 18-20minutes or until the scones are golden brown. Transfer to a wire rack to cool when they are done.
Blending Instructions
Wait until the scones is cool prior to blending.
You may need to warm scone up for 10-20 seconds so they are soft before adding to the blender
200ml milk per scone
200ml total yield per scone (200ml milk per scone for correct consistency) = approximately 4x60ml syringes
Freezing Instructions
Store in an airtight container at room temperature for 1 to 2 days or in the fridge for up to 3 days. They can also be frozen for upto 3 months.
Tips
Make sure the butter is cold right out of the fridge, as if it is too warm, the scones will go flat.