Mattar Paneer and Rice
Easy and quick filling vegetarian meal
Moderate

Lunch or Dinner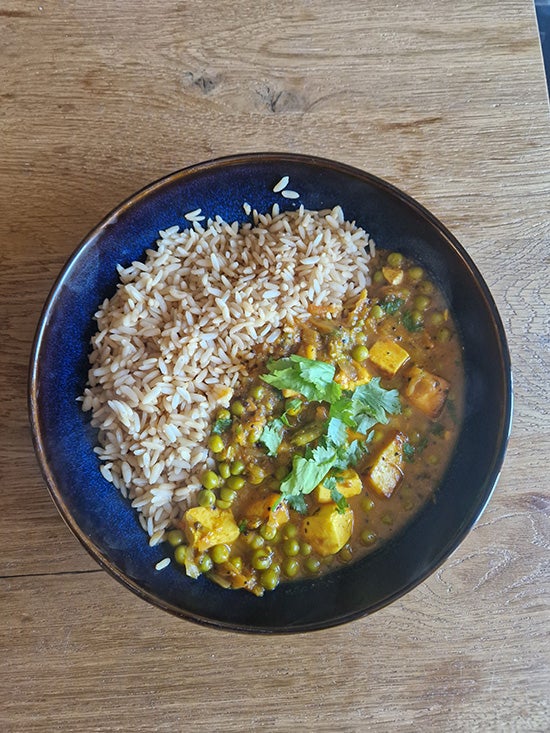 1 of 3 images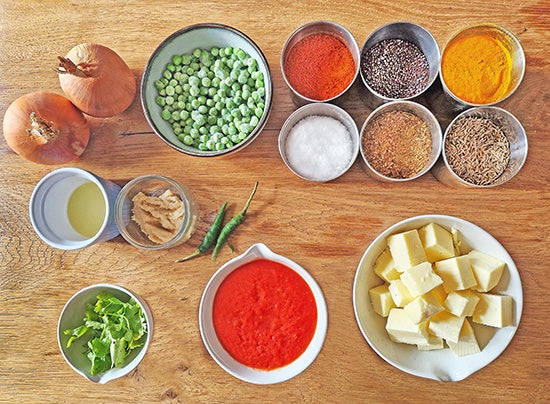 2 of 3 images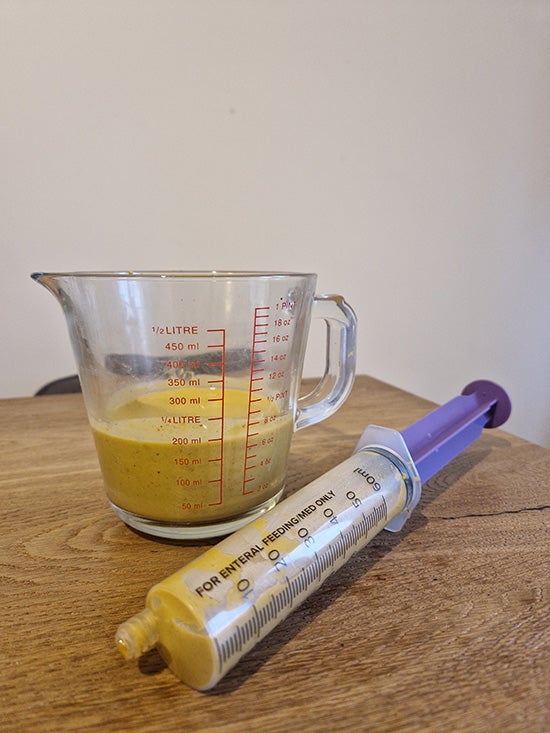 3 of 3 images
Ingredients Checklist:
To make the base:
Allergens:
Contains: Milk

Gluten-free

Egg-free

Nut-free
Modifications
Equipment
Preparation
The paneer can be replaced with firm tofu to make this recipe plant-based. It will change the nutritional content
A few handfuls of frozen or fresh spinach can be added during cooking in order to increase the iron content of this recipe
For extra calories, butter can be added or it can be blended with Greek yoghurt/ regular yoghurt/ coconut milk
See 'High/ Low kcal options' for full list
Heavy bottomed pan
Spatula
Hand or jug blender
Sieve, if using
Timings
Approx 30mins to prepare
(not including time taken to prepare rice)
Nutritional content:
297kcals, 15g protein, 20g fat, 11g carbohydrate; 1.74mg iron; 42.2mg calcium
NB: The nutritional content will increase dependent on what is served with the product e.g. 125g basmati rice contains ~190kcal; 4g protein
Portion Sizes
| | |
| --- | --- |
| Full portion 210g | = 297kcal/15g protein |
| Half portion 105g | = 149kcal/ 7.5g protein |
| Third portion 52.5g | = 74kcal/ 3.8g protein |
Step 1
Heat the oil over a medium heat in a heavy bottomed pan. Once it is warm, add the cumin and mustard seeds then turn the heat down to low. Once you hear them start to crackle, add the onions and cook them until they are brown. If they stick to the bottom of the pan, add a splash of water.
Step 2
Add the ginger, garlic and sautée for a couple of minutes. Then add the chillis, tomatoes and dry spices.
Step 3
Cook it low and slow, this can take around 10-15mins. The mixture will eventually thicken and the oil rises to the top and it will go a deep red colour. If the mixture sticks to the pan at any point then add a splash of water.
Step 4
Add the water and leave to simmer over a low heat for 10-15 mins until thickened slightly. If the water evaporates, you can add more while it is simmering. Add the frozen peas and paneer and cook for 5 minutes until the oil separates from the mixture, then add the coriander (if using).
Step 5
Blend or dish up and serve with boiled rice.
Total= 1470g (Dependent on amount of water added)
Blending Instructions
Wait until the recipe is cool prior to blending. Then add 50ml liquid to 200ml portion prior to blending (this equates to 25ml additional liquid per 100ml paneer recipe)
yielded 250ml total blend - ~5 x 60ml syringes
Always sieve after blending to reduce risk of blockages
Freezing Instructions
Suitable for home freezing - this meal can be frozen into portions or as a whole batch. It can also be enjoyed by the whole family Frozen versions of ginger, chillis, garlic and onions can be used for easier preparation
NB: Turmeric may stain the syringe
Tips
If the child is under 1, remove their portion prior to adding salt for the rest of the family
Adding chillis are optional, dependent on the child's spice tolerance