Sausage Ragu with Quinoa (or Couscous)
Meat or vegetarian option
Intermediate

Main meal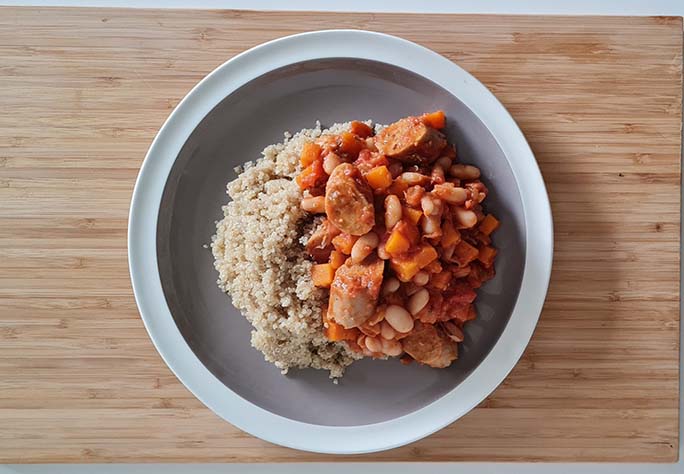 1 of 3 images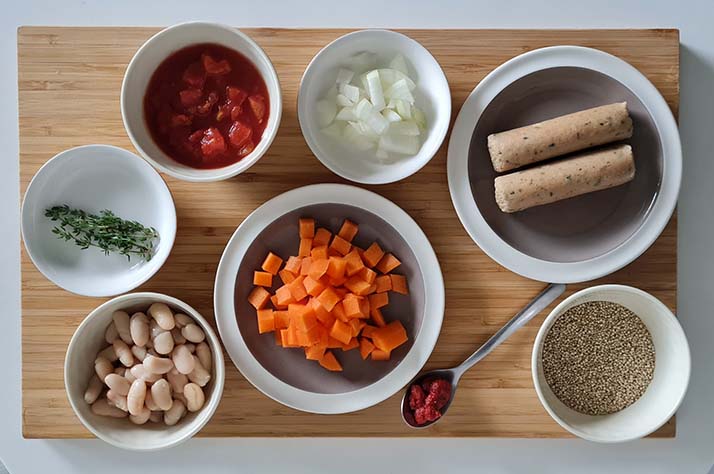 2 of 3 images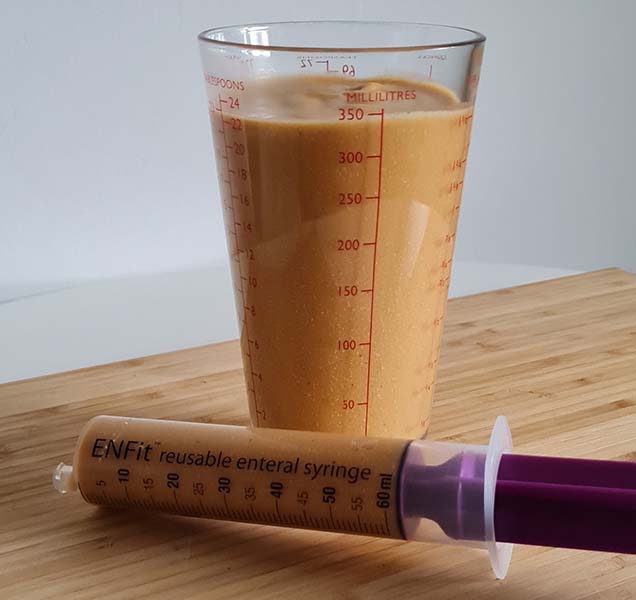 3 of 3 images
Allergens:
Ensure you check the packets of any sausages and stock cubes you use as allergens may differ.
Milk-free, egg-free (check sausage ingredients for milk/egg/gluten)
If using couscous, this is wheat so gluten containing.

Egg-Free

Milk-Free
Modifications
Equipment
Preparation
Note that if modifications are made this may alter the state and nutritional value of the recipe. It is the responsibility of the caregiver to ensure the consistency of the feed is appropriate. Aim for a texture similar to pancake batter or drinking yogurt.
For a quicker option, try couscous instead of quinoa. Use 60g raw couscous per portion and add the same volume of boiling water (60ml) then leave to stand, covered, for 5-10 mins. Once soft and not crunchy, fork through to make it fluffy. You can also add flavourings to couscous before the water, such as 1 tsp olive oil, salt and pepper, or stock powder.
2 x saucepans
Hand or jug blender
Sieve
Spatula
Timings
Approx.: 45 mins
Preparation: 10 mins
Cook: 35 mins
This recipe was designed for children. Your dietitian should help you calculate the right portion for your child. Some children may need smaller portions e.g. a half portion may be adequate for an older/teenage child.
Nutritional content:
510kcals, 22.1g protein, 10.6g fat, 68.3g carbohydrate, 6.7mg iron, 103mg calcium.
Portion Sizes
| | |
| --- | --- |
| Full portion 680ml/ 11.2 x 60ml syringes | = 510kcal/22.1g protein |
| Half portion 340ml/ 5.6 x 60ml syringes | = 255kcal/11g protein |
| Third portion 210g/ 3.5 x 60ml syringes | = 158kcal/6.8g protein |
Step 1
Warm oil (1 teaspoon) in saucepan over a medium heat and add onion (1/4 onion, diced), carrot (1 small carrot, peeled and diced) and thyme (1/2 teaspoon dried/fresh thyme). Cook for 2-3 mins, stirring occasionally.
Step 2
Add sausages (2 skinless sausages - remove skin if not skinless and cut each sausage into 3 or 4 pieces) and cook for further 2-3 minutes, turning to brown lightly on all sides.
Step 3
Add cannellini beans (100g), tomatoes (100g), stock (100ml), tomato puree (1 teaspoon) and once bubbling cook reduce heat and cook on low to medium heat for 10 mins. It should be gently bubbling.
Step 4
Meanwhile cook quinoa (50g) - rinse quinoa thoroughly in sieve and add to boiling water and cook on low heat for 12-15 mins.
Step 5
Allow ingredients to cool, then blend with 300ml water.
Blending Instructions
This recipe was blended with 300ml water to achieve a pancake batter consistency which yielded 680ml total blend (11 x 60ml syringes) however you may find you need slightly less fluid to blend as you become confident administering blends. Always sieve blends until you are confident you are achieving a completely smooth blend with no bits.
Freezing Instructions
Once blended, this meal can be frozen and used within one month. Defrost thoroughly and bring to room temperature before use. Water may need to be added to reach a pancake batter consistency. Consume with 24hrs of defrosting.