Sunday Roast
Traditional family meal - this is a big portion and may constitute lunch and dinner that day, so maybe split portions and give a couple of half or third portions over the course of a day!
Intermediate

Main meal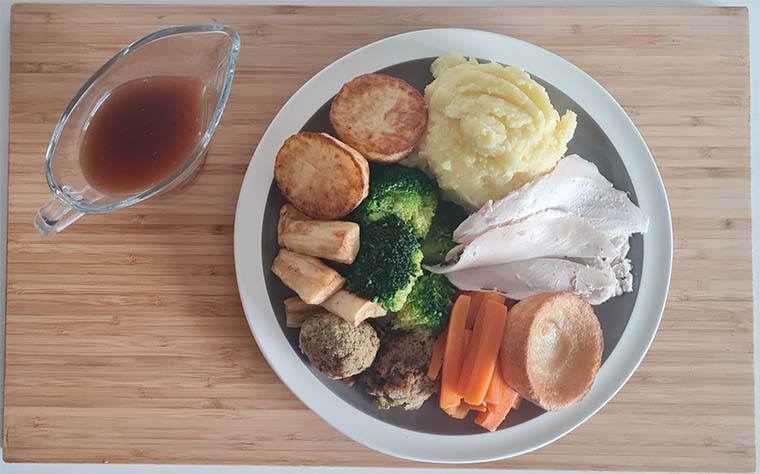 1 of 3 images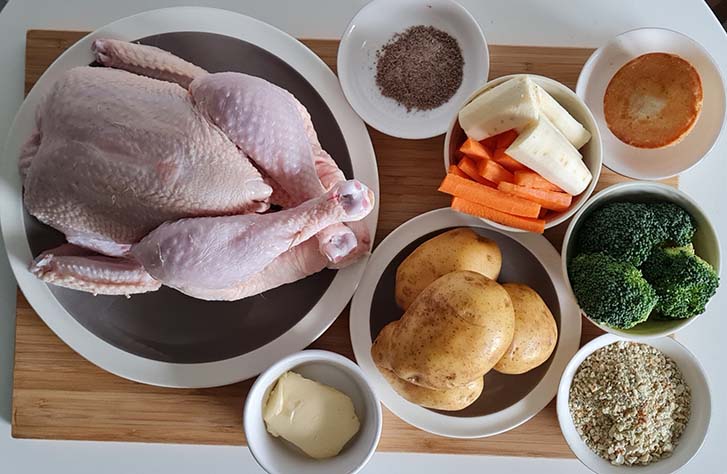 2 of 3 images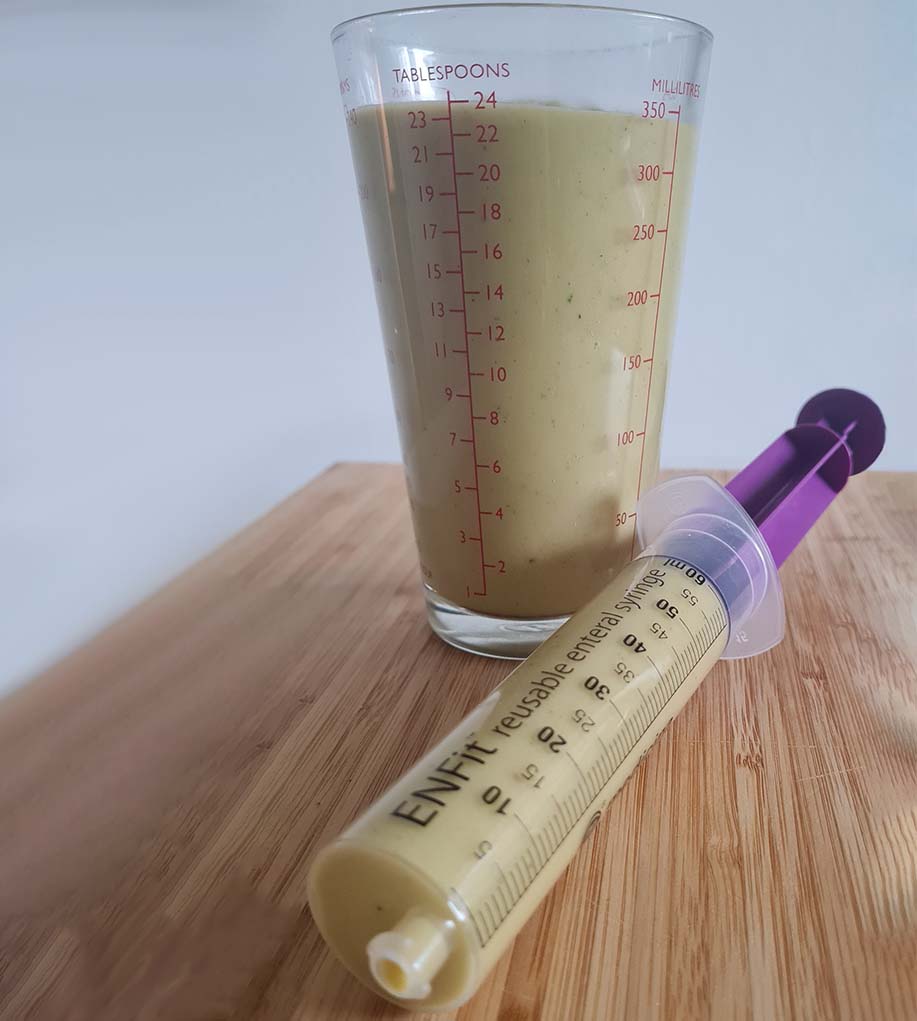 3 of 3 images
Allergens:
Contains milk, gluten
If using any packet mixes for stuffing, stock or gravy, please check the ingredients for allergens

Egg-Free

Nut-Free
Modifications
Equipment
Preparation
Note that if modifications are made this may alter the state and nutritional value of the recipe. It is the responsibility of the caregiver to ensure the consistency of the feed is appropriate. Aim for a texture similar to pancake batter or drinking yogurt.
Vegetarian/vegan option - Nut stuffed mushroom: finely chop/blend 30g of your favourite nuts (walnuts/almonds/hazelnuts), mix with 20g preferred grated cheese and fill large field/Portobello mushroom, drizzle with olive oil and bake in oven (170/180fan) for approx 20mins. Note that recipe will no longer be nut-free.
Use plant milk/spread if vegan option and vegan cheese for stuffed mushroom.
Choose your family favourite vegetables - asparagus, broccoli, Brussels sprouts, cauliflower, celeriac, courgette, mushroom, squash, sweet potato - I usually pick 3 and all can be roasted.
Optional additions for celebration roast:
1 tsp cranberry sauce (10 kcal), 1 tbsp bread sauce (25 kcal), pigs in blankets x 2 (120 kcal).
Homemade gravy: Melt 20g butter in saucepan, stir in 20g plain flour to combine (this makes a roux), slowly whisk in 280ml stock (water with stock cube or include juice from roast chicken). Cook over medium to low heat for at least 10 minutes, whisking regularly to remove any lumps.
Hand or jug blender
Sieve
Spatula
Timings
Approx.: 1hr 40mins
Preparation: 15 mins (includes prep time when chicken is cooking)
Cooking: 90 mins (depending on weight of whole chicken)
Tips
Make a simple roast without cooking a whole joint of meat or whole chicken - chose your meat e.g chicken breast or turkey steak, pan-fry in oven proof frying pan, cover with tin foil and cook in oven as above temperature until cooked (will take 10-20mins in oven depending on size) and always check with skewer to ensure juice runs clear or cut through the middle of the meat to ensure it is cooked through.
This recipe was designed for children. Your dietitian should help you calculate the right portion for your child. Some children may need smaller portions e.g. a half portion may be adequate for an older/teenage child.
Nutritional content:
865kcals, 43.9g protein, 27.8g fat, 112g carbohydrate, 3.4mg iron, 228mg calcium.
Portion Sizes
| | |
| --- | --- |
| Full portion 1020ml/17x60ml syringes | = 865kcal/43.9g protein |
| Half portion 510ml/ 8.5 x 60ml syringes | = 432kcal/22g protein |
| Third portion 360g/ 6 x 60ml syringes | = 305kcal/15.5g protein |
Step 1
If roasting whole chicken - place chicken in roasting tray and rub skin with 25g butter, season with salt/pepper plus any fresh/dried herbs of your choice - thyme works well.
Step 2
Cover chicken (100g) loosely with aluminium foil and cook in middle oven at 190C/Fan170C/gas 5 (remove foil after 30 mins). Cook as per recommended time on packaging. To check, pierce the thigh with skewer, juices should run clear (approx 90 minutes for 1.5kg chicken).
Step 3
Prepare vegetables: toss 2 small potatoes and parsnip batons in vegetable oil (1 tablespoon) - roast potatoes for approx 45-60mins and add parsnips later (approx. 80g).
Step 4
Prepare vegetables: toss 2 small potatoes and parsnip batons in vegetable oil (1 tablespoon) - roast potatoes for approx 45-60mins and add parsnips later (approx. 80g) for approx 30mins in same roasting tray.
Step 5
Prepare stuffing balls, add 5g butter and cook for approx 30 mins - add to roasting tray when adding parsnips.
Step 6
Put remaining potatoes on to boil for mashed potato and cook for approx 30 minutes until soft, once cooked, mash with milk (10ml) and 5g butter.
Step 7
Retain 100ml vegetable water to make gravy.
Step 8
Cook carrots (approx 80g) and broccoli (80g) together for approx 8-10 mins in boiling water.
Step 9
Place frozen Yorkshire pudding in oven for 3 - 5mins.
Step 10
Heat vegetable water and whisk in gravy granules.
Step 11
Slice 100g roast chicken and assemble meal for blending.
Blending Instructions
This recipe was blended with 450ml water, additional to gravy, to achieve a pancake batter consistency which yielded 1020ml total blend (17 x 60ml syringes) however you may find you need slightly less fluid to blend as you become confident administering blends. Always sieve blends until you are confident you are achieving a completely smooth blend with no bits.
Freezing Instructions
Once blended, this meal can be frozen and used within one month. Defrost thoroughly and bring to room temperature before use. Water may need to be added to reach a pancake batter consistency. Consume with 24hrs of defrosting.