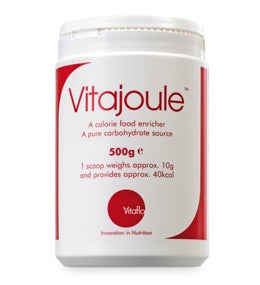 Vitajoule™
Vitajoule is a neutral‐tasting carbohydrate powder supplement. It can be added to a wide variety of food and drink to enhance the energy content with minimal effect on taste, volume and texture. 1 level scoop weighs approximately 10g of Vitajoule and provides approximately 38kcal. Suitable from birth.
Vitajoule is a food for special medical purposes and must be used under medical supervision.
Download the Vitajoule datacard
We wish to inform you of a discrepancy which has been noted with regards to the current scoop weight for Vitajoule. In batches 1100174, 1080091, 1063774 & 1112484 of Vitajoule, the scoop weight is approximately 12g of Vitajoule instead of 10g. This has been investigated and is the result of a change in raw material supplier affecting the density of the powder. It is advised that Vitajoule is weighed out using a gram scale instead of the scoop for these batches.
Find out how to order our products in the UK
---
---
Read more about malnutrition in the following areas