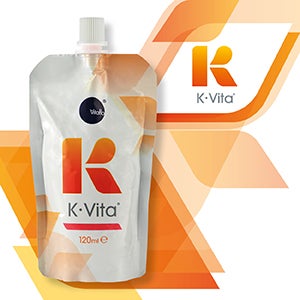 Coming soon!
K.Vita, an alternative dietary management for drug resistant epilepsy.
K.Vita is an exciting new option to manage patients, from 3 years of age, who have drug resistant epilepsy, with minimal dietary restriction.
Please download the clinical research paper to learn more about how K.Vita was implemented and accepted in the feasibility study.
K.Vita is a unique blend of medium chain fatty acids (decanoic acid - C10 and octanoic acid - C8) with a palatable strawberry flavour. It is important that K.Vita is introduced slowly, over four weeks, to help establish gastrointestinal tolerance to medium chain triglycerides (MCT). K.Vita is taken as part of the patient's usual diet. However, as advised during the clinical trial, to optimise nutritional intakes, it is recommended that foods and beverages high in sugar are avoided.
Each 120ml pack contains:
40g bespoke blend of MCT
Higher levels of decanoic acid (C10) than regular MCT
80:20 ratio of C10:C8
---
---
Watch the K.Vita talk on VIA
---
If you would like to be contacted with more details about K.Vita please fill in the form below