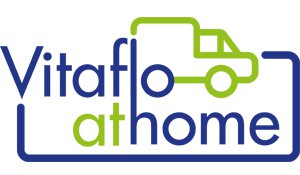 Vitaflo® are committed to providing the most up-to-date, convenient and easy to use products available to people on a special diet. We have teamed up with Healthcare at Home, the UK's largest home healthcare provider, to deliver Vitaflo products directly to patients' homes each month. Healthcare at Home currently deliver to over 100,000 patients in the UK.
By utilising Healthcare at Home's many years of experience we can confidently offer patients a worry free and reliable means of obtaining their Vitaflo products.
Supporting Patients
A dedicated team of Customer Care Co-ordinators will support the Vitaflo at Home® service with a freephone Helpline available from 8am – 6pm Monday to Friday (excluding public holidays) to answer all queries on product deliveries*.
*Out of hours calls will still be taken on the freephone number.
Prescription ordering service-
Our Vitaflo at Home team will contact patient's GP directly each month and organise a prescription for Vitaflo products to be sent direct to Vitaflo at Home.
Product delivered directly to home-
Eliminating the need to collect bulky product from the pharmacy each month.
Deliveries can be made to whatever address suits best – home, place of work or other chosen address.
Delivery will be on an agreed day and to an agreed location.
Delivery will be between 8.00am – 6.00pm Monday – Friday. Alternatively, an evening or Saturday morning delivery may be possible, depending on location.
A delivery will be made every 4 weeks.
Continuity of supply-
Preventing patients from running out of product
Reliable stock control-
A Vitaflo at Home co-ordinator will assess stock levels each month.
Safe and reliable product supply-
Ensuring the correct products and correctly prescribed amount is received each month
Download the Vitaflo at home information leaflet