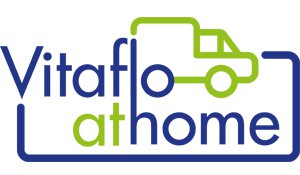 Vitaflo® are committed to providing the most up-to-date, convenient and easy to use products available to people on a special diet. We have teamed up with Healthcare at Home, the UK's largest home healthcare provider, to deliver Vitaflo products directly to patients' homes each month. Healthcare at Home currently deliver to over 100,000 patients in the UK.
By utilising Healthcare at Home's many years of experience we can confidently offer patients a worry free and reliable means of obtaining their Vitaflo products.
Supporting the Healthcare Professional
Quick and easy registration process
Simply download the forms from our website, or we can come in and complete them with you
Management reports
Upon request we will supply regular reports including any patient-related information you may require
Patient regime
As the patient's dietitian, you will always be able to check and authorise requirements
Dispensing of products
All products are dispensed and checked by an onsite qualified pharmacist
Fast turnaround time
Products can be delivered within 2 working days from registration of patient
How to set a patient up on Vitaflo at Home
Dietitian completes patient registration form and 'Product Regime' document and sends to Vitaflo at Home*
* Original copies of documents need to be sent by post, but can be faxed in initial instance.
Patient is registered on Vitaflo at Home and sent a welcome pack explaining the service.
Dietitian contacts GP to request the initial prescription. The Vitaflo at Home co-ordinator can then contact the GP directly and organise for the prescription to be sent direct to Vitaflo at Home each month.
Vitaflo at Home co-ordinator calls patient / carer to arrange delivery.
Patient receives first delivery.

The content you are trying to access is intended for healthcare professionals only.
Are you a healthcare professional?
The following content is restricted for consumers only. You will be redirected.
The following content is restricted for healthcare professionals only. You will be redirected.