Pancakes with caramelised apple, cinnamon and ice cream
This sweet caramelised topping is the ultimate pancake day treat. Also ideal for a family weekend brunch! Find our pancake recipe here.
Intermediate

Breakfast, lunch, dinner or snack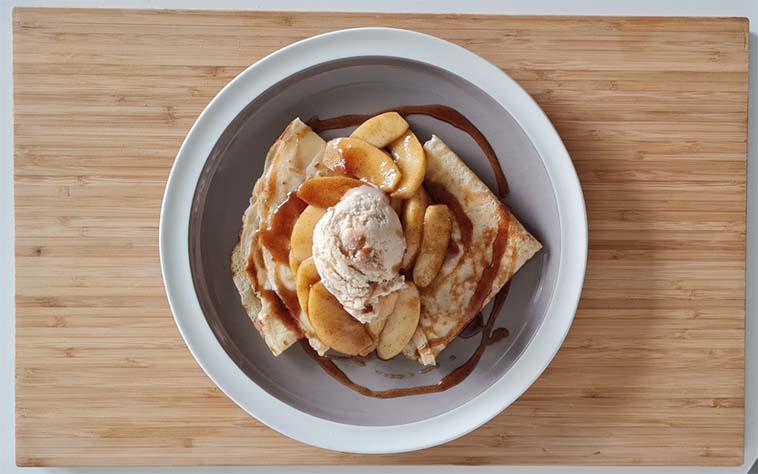 1 of 3 images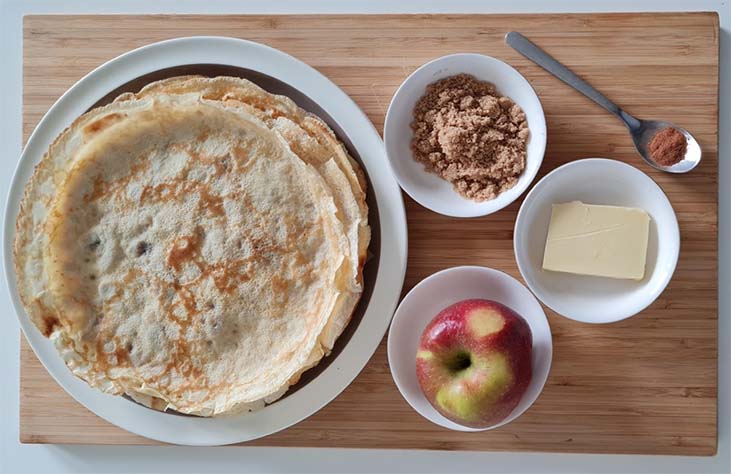 2 of 3 images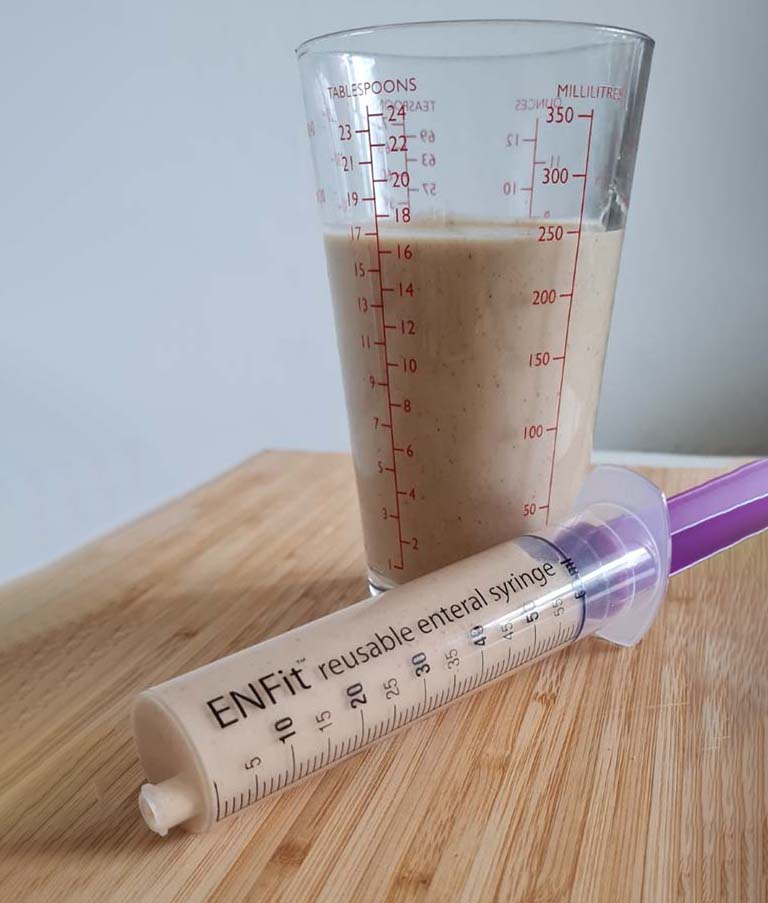 3 of 3 images
Ingredients Checklist:
Makes enough for 2 portions
Vegetarian
Allergens:
Contains milk

Nut-Free
Modifications
Equipment
Preparation
Time-saving tip:
Use ready-made apple sauce/puree instead of caramelised apple.
Spatula
Approx 20cm non-stick frying pan
Timings
Approx.: 10-15 mins
This recipe was designed for children. Your dietitian should help you calculate the right portion for your child. Some children may need smaller portions e.g. a half portion may be adequate for an older/teenage child.
Nutritional content (2 pancakes with apple topping):
466kcals, 5.7g protein, 25.5g fat, 55.9g carbohydrate, 1.7mg iron, 196mg calcium.
Portion Sizes
2 pancakes with apple topping
| | |
| --- | --- |
| Full portion 310ml / just over 5 x 60ml syringes | = 363kcal/2.2g protein |
| Half portion 150ml / 2.5 x 60ml syringes | = 176kcal/1.1g protein |
| Third portion 120ml/ 2 x 60ml syringes | = 141kcal/0.9g protein |
Step 1
Melt butter (20g) and sugar (20g) in a frying pan on medium-high heat until sugar is dissolved, and mixture starts to bubble.
Step 2
Add sliced apple and cook for about 5 minutes until soft.
Step 3
Add on top of your pancakes, sprinkle with cinnamon to taste and serve with ice cream or whipped cream.
Blending Instructions
Apple topping with 2 pancakes - blend with approximately 150ml water for 3 to 5 minutes. This yields 310ml total blend.
Freezing Instructions
Pancakes are suitable for home freezing! Once made, pop them in the freezer. To use, defrost the pancakes, make the topping and blend.