Pancakes with mixed berries and crème fraiche or yoghurt
This ultra-simple no-cook topping idea is perfect for a quick and tasty brunch or pancake day menu. Find our base pancake recipe here.
Beginner

Breakfast, lunch, dinner or snack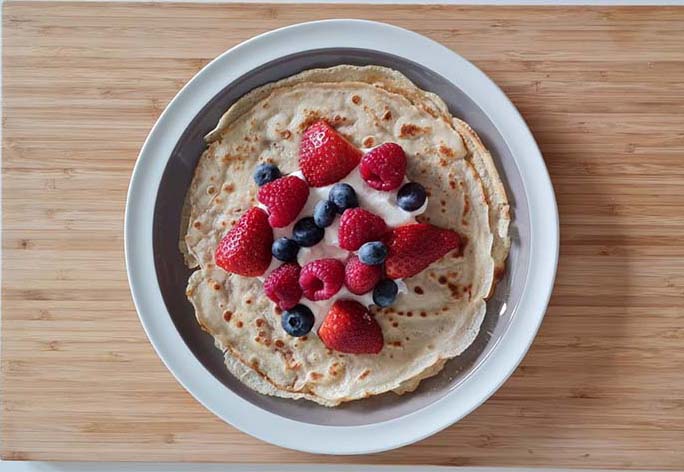 1 of 3 images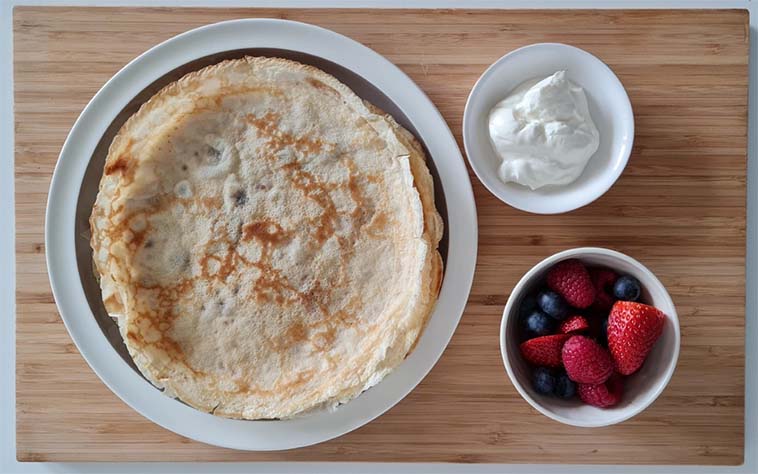 2 of 3 images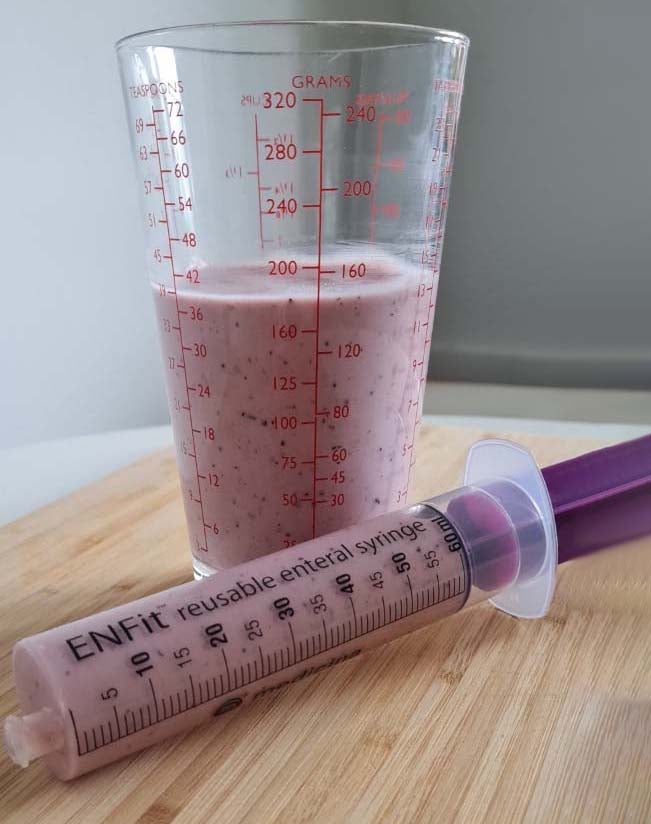 3 of 3 images
Ingredients Checklist:
Makes two portions. Berry topping:
Vegan option recipe below in modifications
Allergens:
Contains milk

Nut-Free
Modifications
Equipment
Preparation
Try your favourite plant-based yoghurt for a vegan alternative.
This recipe was designed for children. Your dietitian should help you calculate the right portion for your child. Some children may need smaller portions e.g. a half portion may be adequate for an older/teenage child.
Nutritional content (2 pancakes with berry topping):
332kcals, 5.5g protein, 24.4g fat, 23.6g carbohydrate, 1.1mg iron, 100mg calcium.
Portion Sizes
2 pancakes with mixed berry topping
| | |
| --- | --- |
| Full portion 250ml / just over 4 x 60ml syringes | = 229kcal/2.0g protein |
| Half portion 120ml / 2 x 60ml syringes | = 110kcal/1.0g protein |
| Third portion 90ml/ 1.5 x 60ml syringes | = 82kcal/0.7g protein |
Step 1
Combine mixed berries (100g, defrosted if using frozen) and add crème fraiche or yoghurt (50g).
Step 2
Spoon on top of your pancakes and blend.
Blending Instructions
Berry topping with 2 pancakes - blend with approximately 100ml water for 3 to 5 minutes. This yields 250ml total blend.
Freezing Instructions
Pancakes are suitable for home freezing! Once made, pop them in the freezer. To use, defrost the pancakes, make the topping and blend.