Pancakes with spinach, mushrooms and mascarpone
This savoury pancake recipe comes together in a flash, making it a staple for any time of day. Find our base pancake recipe here.
Beginner

Breakfast, lunch, dinner or snack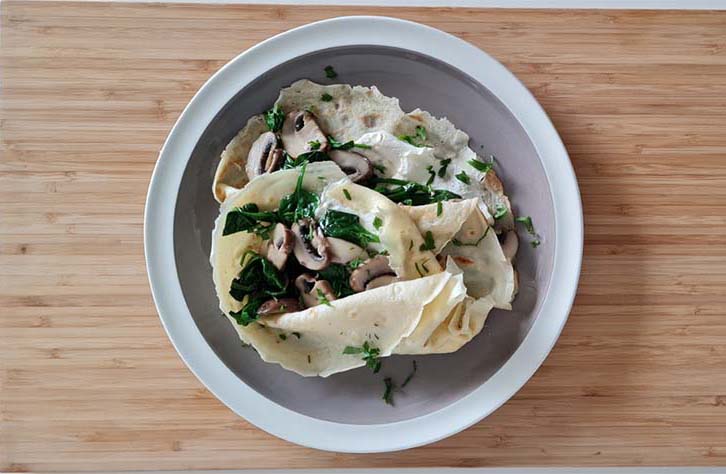 1 of 3 images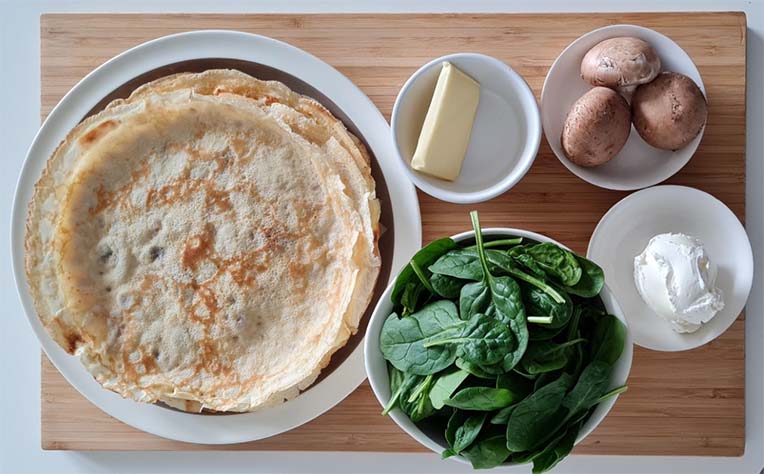 2 of 3 images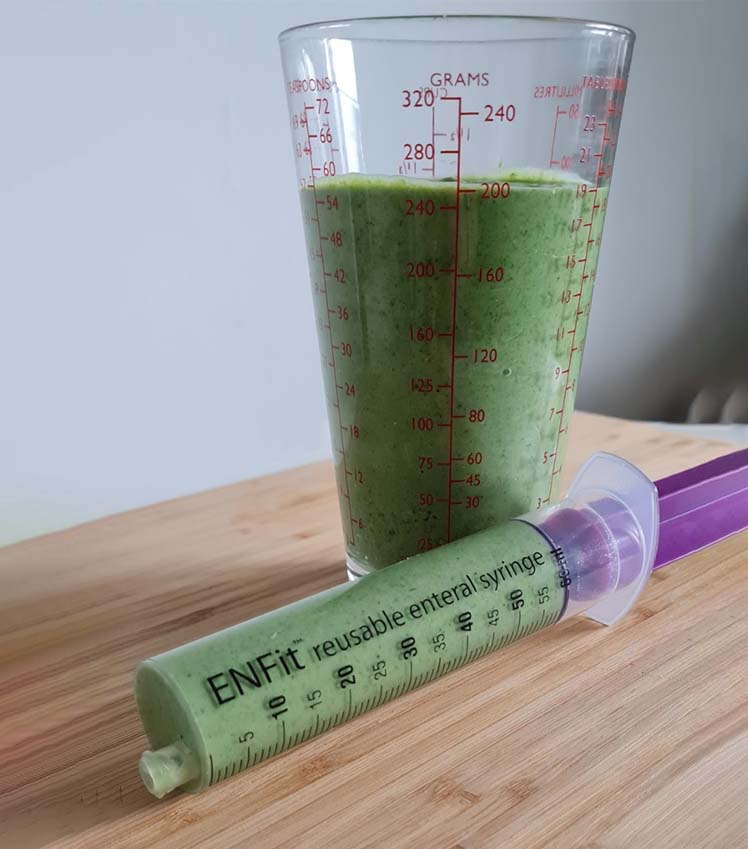 3 of 3 images
Ingredients Checklist:
Makes two portions
Vegan option recipe below in modifications
Allergens:
Contains milk

Nut-Free
Modifications
Equipment
Preparation
Replace the mascarpone with plant-based cream cheese for a vegan alternative.
Timings
Approx.: 40-45 mins
10-15 mins to prepare
30 mins to cook
This recipe was designed for children. Your dietitian should help you calculate the right portion for your child. Some children may need smaller portions e.g. a half portion may be adequate for an older/teenage child.
Nutritional content (2 pancakes with topping):
453kcals, 7.4g protein, 60.4g fat, 13.8g carbohydrate, 1.6mg iron, 202mg calcium.
Portion Sizes
2 pancakes with spinach topping
| | |
| --- | --- |
| Full portion 360ml / just over 6 x 60ml syringes | = 350kcal/3.9g protein |
| Half portion 180ml / 3 x 60ml syringes | = 175kcal/2.0g protein |
| Third portion 120ml/ 2 x 60ml syringes | = 117kcal/1.3g protein |
Step 1
Heat oil or butter in a frying pan on medium heat and add sliced mushrooms (60g). Cook for 2 to 3 minutes.
Step 2
Add spinach (60g) and cook for a further 2-3 minutes on medium to low heat.
Step 3
Serve on top of pancakes with a dollop of mascarpone (40g).
Blending Instructions
Spinach topping with 2 pancakes - blend with approximately 150ml water for 3 to 5 minutes. This yields 360ml total blend.
Freezing Instructions
Pancakes are suitable for home freezing! Once made, pop them in the freezer. To use, defrost the pancakes, make the topping and blend.