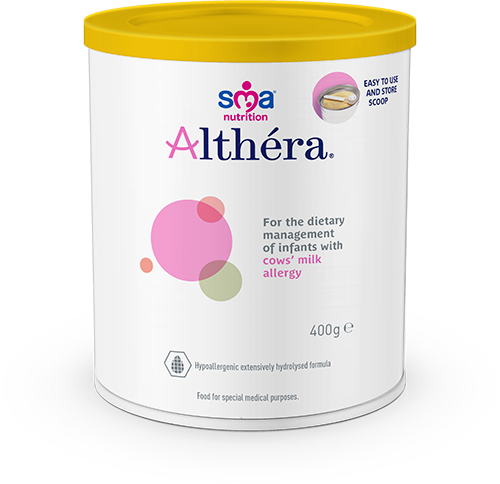 WHAT IS SMA® ALTHÉRA®?
Althéra®is an extensively hydrolysed (eHF) hypoallergenic infant formula that provides first-line relief from the symptoms associated with mild-moderate cows' milk protein allergy (CMA) and/or multiple food protein allergies. SMA® Althéra® is nutritionally complete* and contains lactose to support growth and development. With its very low allergenic profile and preferred taste over casein-based eHFs, it is designed to support increased acceptability and tolerance in the majority of babies with CMA. Available in a 400g resealable tin. Free from soy.
WHO CAN USE SMA ALTHÉRA?
Babies and infants with cows' milk protein allergy (CMA) can use Althéra formula.
For more information on SMA® Althéra® or cows milk allergy:
---
---
---
Next, check out Compleat Paediatric® – a blenderised, nutritiously complete product which is great for tube feeding.
FAQs
Q: Does SMA® Althéra® contain lactose?
A: Yes, SMA® Althéra® is nutritiously complete and contains lactose.
Q: Is SMA Althéra® an alternative for breastfeeding?
A: Breastfeeding is best for babies and full consideration of all other feeding options must be considered. SMA Althéra® must be used under strict medical supervision, so we suggest consulting a professional.

We believe breast milk is the best food for infants. When in consultation with their healthcare professional, mothers and families find that optimal breastfeeding is not possible due to their infant's medical condition, formulas for special medical purposes play a vital role in providing essential nutrients to infants. We have a global commitment to market breast-milk substitutes responsibly.

This website is about the management of cows' milk protein allergy and nutritional solutions intended for infants. By continuing on this website, you accept that Nestlé Health Science supplies the information at your own request.


Are you a healthcare professional (HCP) or a parent?