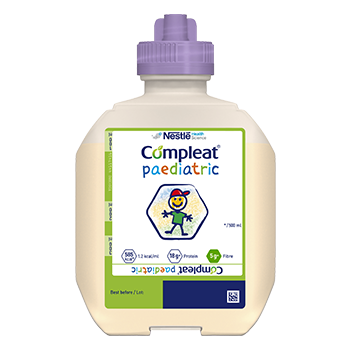 Compleat® paediatric (formerly known as Isosource® Junior Mix) is currently the only paediatric tube feed in the UK&I that contains food-derived ingredients*.
Nutritionally complete 1.2kcal/ml feed for children 1 year and over

Halal certified and gluten-free

Iso-osmolar (Osmolarity: 280 mOsm/l Osmolality: 340mOsm/kg)

18g protein (33% from rehydrated chicken, green peas and green beans) and 5g fibre (51% of fibre from vegetables and fruits) per 500ml bottle
---
SmartFlex™ uses state-of-the-art design and production techniques to create innovative packaging for enteral feeds:
Easy to use and administer
Universal cap means SmartFlex™ fits all commonly used giving sets without an adaptor
High quality design and production with closed system
Collapsible semi-rigid packaging for compact and safe disposal
Easy to administer for bolus feeding
Water, maltodextrin, rehydrated chicken meat 6.9%, rehydrated vegetables 4.3 % (peas 3.8%, green beans 0.54%), vegetable oils (rapeseed, sunflower), milk proteins, peach puree (1.4%), orange juice from concentrate (1.2%), fibres (pea fibre, acacia gum, fructooligosaccharides, inulin), emulsifiers (E472c, E471), MCT oil, minerals (potassium phosphate, calcium chloride, calcium lactate, calcium phosphate, sodium chloride, potassium chloride, magnesium oxide, magnesium citrate, ferrous lactate, zinc sulphate, copper gluconate, manganese sulphate, sodium fluoride, potassium iodide, sodium molybdate, chromium chloride, sodium selenite), fish oil, choline bitartrate, vitamins (C, niacin, E, pantothenic acid, B6, riboflavin, thiamin, A, folic acid, K, biotin, D, B12), stabiliser (E407), taurine, L-carnitine, antioxidant (E304). Gluten Free. UHT sterilised. Packaged in a protective atmosphere.
*Compleat® paediatric contains 13.8% food derived ingredients from rehydrated chicken, rehydrated vegetables (peas & green beans), peach puree and orange juice from concentrate. Compleat® paediatric is currently the only feed in the UK&I with food-derived ingredients, written in March 2022.

Are you a healthcare professional?