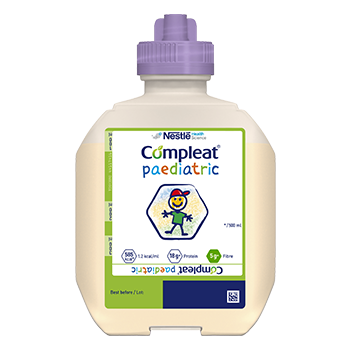 WHAT IS COMPLEAT® PAEDIATRIC?
Compleat® paediatric (formerly known as Isosource® Junior Mix) is currently the only paediatric tube feed in the UK&I that contains food-derived ingredients*.
Nutritionally complete 1.2kcal/ml feed for children 1 year and over
Halal certified and gluten-free
Iso-osmolar (Osmolarity: 280 mOsm/l Osmolality: 340mOsm/kg)
18g protein (33% from rehydrated chicken, green peas and green beans) and 5g fibre (51% of fibre from vegetables and fruits) per 500ml bottle
Order Sample
View Data Card
Compleat® Paediatric: Excellent gastrointestinal tolerance, supported by real-world evidence
Compleat® Paediatric Results:
Research and case studies continue to show that Compleat® paediatric is well tolerated and results in positive changes in quality of life.1-3
In a multi-centre retrospective study, significant improvements in GI tolerance were reported by dietitians, with 81% (35/43) seeing GI tolerance improvements within 1 week of switching to Compleat® paediatric.
Other results include:
90% of patients were able to meet their nutritional goals with the feed2

95% (17/18) saw improvements in retching2

90% (10/11) saw improvements in loose stools2

90% (10/11) saw improvements in constipation2
Learn more with resources on our N+ Education Hub for Healthcare Professionals.
Watch the webinar
Read the paper
---
---
*Compleat® paediatric contains 13.8% food derived ingredients from rehydrated chicken, rehydrated vegetables (peas & green beans), peach puree and orange juice from concentrate. Compleat® paediatric is currently the only feed in the UK&I with food-derived ingredients, written in March 2022.
If you're also looking for nutritional, blenderised food for adults, we have you covered with our Peptamen range. Explore our variety.
References:
Thornton-Wood C and Saduera S. 2020. Tolerance and Acceptability of a New Paediatric Enteral Tube Feeding Formula Containing Ingredients Derived From Food: A Multicentre Trial In The United Kingdom.  J Neonatol Clin Pediatr, 7: 050 DOI: 10.24966/NCP-878X/100050
O'Connor G,Watson M, Van Der Linde M, Bonner RS, Hopkins J, Saduera S. Monitor gastrointestinal tolerance in children who have switched to an "enteral formula with food-derived ingredients": A national, multicenter retrospective chart review (RICIMIX study). Nutr Clin Pract. 2021;1-6. https://doi.org/10.1002/ncp.10812
Siddiqui A, Steele V, van der Linde M (2021) Benefit of Including Food-Derived Ingredients in Enteral Nutrition Formulas: Practical Experience from Clinical Cases. J Neonatol Clin Pediatr 8: 066.
FAQs
Q: Compleat Paediatric® Ingredients
A: Our nutritious ingredients are listed below:
Water, maltodextrin, rehydrated chicken meat 6.9%, rehydrated vegetables 4.3 % (peas 3.8%, green beans 0.54%), vegetable oils (rapeseed, sunflower), milk proteins, peach puree (1.4%), orange juice from concentrate (1.2%), fibres (pea fibre, acacia gum, fructooligosaccharides, inulin), emulsifiers (E472c, E471), MCT oil, minerals (potassium phosphate, calcium chloride, calcium lactate, calcium phosphate, sodium chloride, potassium chloride, magnesium oxide, magnesium citrate, ferrous lactate, zinc sulphate, copper gluconate, manganese sulphate, sodium fluoride, potassium iodide, sodium molybdate, chromium chloride, sodium selenite), fish oil, choline bitartrate, vitamins (C, niacin, E, pantothenic acid, B6, riboflavin, thiamin, A, folic acid, K, biotin, D, B12), stabiliser (E407), taurine, L-carnitine, antioxidant (E304). Gluten Free. UHT sterilised. Packaged in a protective atmosphere.
Q: Nestlé Compleat® Calories
A: Nestlé Compleat® Paediatric is nutritionally complete with 1.2kcal/ml feed for children 1 year and over.

Are you a healthcare professional?