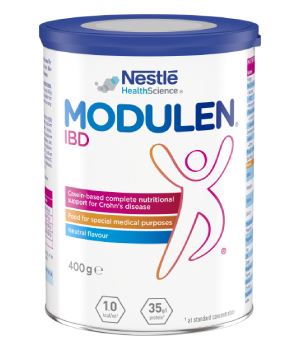 Modulen® IBD is a nutritionally complete powdered feed for the dietary management of people with Crohn's Disease. It is to be used as a sole source of nutrition during the active phase and is for nutritional support during the remission phase. It is 100% casein-based, supplemented with optimal levels of lipids and carbohydrates with a low osmolality* level for good feeding tolerance.
*standard concentration
Reducing Inflammation
Modulen® IBD contains a naturally occurring anti-inflammatory factor. It has been shown in multiple clinical studies to reduce the inflammation in the gut and promote gut mucosal healing. This may help during the repair phase, after or during a flare up of Crohn's Disease.
Great taste
Modulen® has a pleasant slight vanilla taste. It is suitable as an oral sip feed or for administration as a tube feed.
Data Sheet & Preparation Instructions
---
Nestlé Health Science proudly offer a product Sample Service, delivering direct to your patients. To request your sample of Modulen
®
IBD, simply click on the button below and follow the short sign up process. This will allow you to request your Modulen
®
IBD sample as well as other Nestlé Health Science product samples available via the service.

100% casein based which contains a naturally occurring anti-inflammatory factor, which may help reduce the inflammatory response in the gut and may help gut mucosal healing
Flexible caloric density
Whole protein powdered formulation with a superior taste to improve patient compliance
ACBS approved as a sole source of nutrition during the active phase of Crohn's Disease and nutritional support during the remission phase for malnourished patients with Crohn's disease
Nutritionally complete in 2000ml
Suitable as a oral sip feed or for administration as a tube feed
400g re-closeable tin (with 8.3g scoop)
Suitable for adults and children over 5 years
Must be used under medical supervision.
Glucose syrup,
milk
protein, sucrose,
milk
fat, MCT oil, minerals (magnesium chloride, calcium phosphate, sodium citrate, potassium citrate, potassium hydroxide, calcium carbonate, potassium chloride, manganese sulphate, ferrous sulphate, zinc sulphate, copper sulphate, sodium molybdate, chromium chloride, potassium iodide, sodium selenate), corn oil, emulsifier (
soy
lecithin), vitamins (C, E, niacin, pantothenic acid, B6, thiamin, A, riboflavin, folic acid, K, biotin, D, B12), choline bitartrate.
Halal and Gluten free.
ACBS approved, prescribable on FP10 (GP10 in Scotland). Indicated for use as a sole source of nutrition during the active phase of Crohn's disease or nutritional support during the remission phase in malnourished patients.
Contraindications
Not suitable for use in cows' milk protein allergy.
Precautions
For oral or enteral feeding only. Only suitable for those over 5 years. Do not mix with other medication.
Shelf life of 24 months from date of manufacture when stored at room temperature. Consume the contents within 4 weeks of opening. Once reconstituted, use within 6 hours at room temperature or 24 hours if refrigerated.
Wash hands thoroughly. Follow the mixing table here and select the volume required.
Measure cool boiled or bottled water (room temperature) and pour into a clean bowl or container.
Scoop and level the desired amount of powder using the scoop in the tin or weigh in grams.
Add the powder to the water and immediately stir until well mixed.
After use, store the scoop inside the can.
| Product | Product Format | PIP Code | Nestlé Line Code | Case Size |
| --- | --- | --- | --- | --- |
| Modulen® IBD | 400g Tin | 264-3716 | 140447 | 12 |
---
Nestlé Health Science produces a range of foods for special medical purposes (FSMP) for use under medical supervision. A sample product should only be requested for a patient if deemed suitable following a professional evaluation from an appropriate healthcare professional. Althera® and Alfamino® are infant FSMPs and should only be used after the full consideration of the feeding options available, including breastfeeding.
The Nestlé Health Science Sample Service is available to healthcare professionals only, who require sample products for professional evaluation when they have no sample product or if a patient has insufficient product to cover their needs. This service is not intended as a long term solution for a patient.
® Reg. Trademark of Société des Produits Nestlé S.A. Terms and conditions apply.

The following content is restricted for consumers only. You will be redirected.