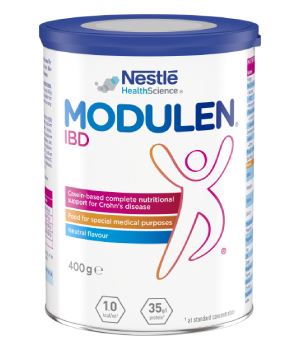 Modulen® IBD is a nutritionally complete powdered feed for the dietary management of people with Crohn's Disease. It is to be used as a sole source of nutrition during the active phase and is for nutritional support during the remission phase. It is 100% casein-based, supplemented with optimal levels of lipids and carbohydrates with a low osmolality* level for good feeding tolerance.
*standard concentration
Reducing Inflammation
Modulen® IBD contains a naturally occurring anti-inflammatory factor. It has been shown in multiple clinical studies to reduce the inflammation in the gut and promote gut mucosal healing. This may help during the repair phase, after or during a flare up of Crohn's Disease.
Great taste
Modulen® has a pleasant slight vanilla taste. It is suitable as an oral sip feed or for administration as a tube feed.
Data Sheet & Preparation Instructions
---
---
Nestlé Health Science produces a range of foods for special medical purposes (FSMP) for use under medical supervision. A sample product should only be requested for a patient if deemed suitable following a professional evaluation from an appropriate healthcare professional. Althera® and Alfamino® are infant FSMPs and should only be used after the full consideration of the feeding options available, including breastfeeding.
The Nestlé Health Science Sample Service is available to healthcare professionals only, who require sample products for professional evaluation when they have no sample product or if a patient has insufficient product to cover their needs. This service is not intended as a long term solution for a patient.
® Reg. Trademark of Société des Produits Nestlé S.A. Terms and conditions apply.