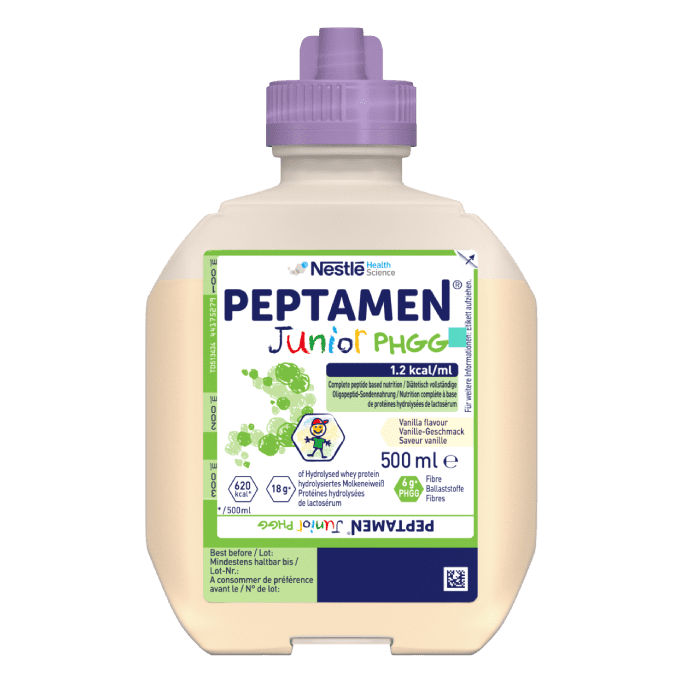 Try Peptamen® Junior PHGG
To learn more about Peptamen® Junior PHGG, book a Taster Session with your Nestlé Health Science representative. Samples are also available with free, fast delivery direct to you or your patients.
Not a Nestlé Health Science customer yet? Call our careline on 0800 000030 to be put in touch with your local representative.
What is Peptamen® Junior PHGG?
Peptamen® Junior PHGG is a nutritionally complete paediatric formula containing 12 g/L of PHGG fibre formulated for children aged 1-10 years who need additional fibre to support bowel function
1.2kcal/ml
Partially hydrolysed, 100% whey peptide-based feed
3.6g protein/100ml (12% total energy)
54% fat as MCT
For short or long-term use
Osmolarity: 383 mOsm/l
Osmolality: 473 mOsm/Kg
Peptamen® Junior PHGG is a food for special medical purposes for use under medical supervision. It is indicated for the dietary management of disease related malnutrition in patients with malabsorption and/or maldigestion who have increased fibre requirements.
---
Nestlé Health Science proudly offer a product Sample Service, delivering direct to your patients. To request your sample of Peptamen® Junior PHGG and other products from our range, simply click on the button below and follow the short sign up process.
Water, maltodextrin, partially hydrolysed whey protein (milk), Medium Chain Triglyceride Oil, sucrose, vegetable oil (soybean), fibre (partially hydrolysed guar gum - PHGG), minerals (calcium phosphate, magnesium chloride, potassium chloride, sodium chloride, potassium phosphate, potassium citrate, sodium phosphate, calcium citrate, magnesium oxide, ferrous lactate, zinc sulphate, copper gluconate, manganese sulphate, sodium fluoride, potassium iodide,chromium chloride, sodium selenite, sodium molybdate), emulsifiers (soy lecithin,E471), fish oil, thickener (E412), choline bitartrate, flavouring, vitamins (C, E,niacin, calcium pantothenate, B6, B1, B2, A,folic acid, biotin, K, D, B12), acidityregulator (E525), taurine, stabiliser (carrageenan), L-carnitine and inositol.
Gluten Free. UHT sterilised. Packaged in a protective atmosphere.
Increase dosage gradually in children with a history of low fibre intake. Shake well before use. 500-1500ml depending on child's requirement or as recommended by a healthcare professional. In order to maintain a constant flow, the use of a pump is recommended.
12 months from date of manufacture. Store unopened in a cool, dry place. Once spiked use within 24 hours. Unused portion can be recapped, refrigerated and used within 24 hours. If poured out of the pack, cover tightly and use within 6 hours.
ACBS approved, prescribable on FP10 (GP10 in Scotland). Indicated as a sole source of nutrition for children aged 1-10 years on medical grounds for short bowel syndrome, intractable malabsorption, patients with proven inflammatory bowel disease and bowel fistulae
| Product | Unit Size | Case Size | PIP Code | Line Code |
| --- | --- | --- | --- | --- |
| PEPTAMEN JUNIOR PHGG 12x500mL | 500ml SmartFlex™ | 12 | 4239935 | 12513514 |

The following content is restricted for consumers only. You will be redirected.