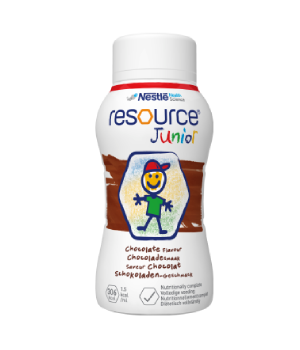 Resource Junior is a high energy 1.5 kcal/ml, ready to drink sip feed for children aged 1-10 years.
It is a nutritionally complete Food for Special Medical Purposes for use under medical supervision.  Available in three popular children's flavours: Chocolate, Strawberry and Vanilla.
---
Nestlé Health Science proudly offer a product Sample Service, delivering direct to your patients. To request your sample of Resource Junior, simply click on the button below and follow the short sign up process. This will allow you to request your Resource Junior sample as well as other Nestlé Health Science product samples available via the service.

1.5 kcal/ml 
306 kcal and 6.0g protein per 200ml bottle
Available in a 200ml bottle
Available in 3 flavours; Chocolate, Strawberry and Vanilla
ACBS approved . 
Nutritionally complete in:

   - 1-3 years:  700ml

   - 4-6 years:  800ml

   - 7-10 years:  1340ml

Not Suitable for children under 1 year of age
Must be used under medical supervision.
Chocolate Flavour:
Water, maltodextrin, vegetable oils (sunflower, rapeseed), sucrose, milk protein, fat-reduced cocoa powder (1.4%), minerals (sodium citrate, calcium citrate, potassium chloride, potassium citrate, magnesium citrate, sodium phosphate, magnesium oxide, iron sulphate, zinc sulphate, manganese sulphate, copper sulphate, sodium fluoride, chromium chloride, potassium iodide, sodium molybdate, sodium selenate), starch, emulsifier (E471), vitamins (C, E, niacin, calcium pantothenate, B6, thiamin, riboflavin, A, folic acid, K, biotin, D, B12), thickener (carrageenan).
See individual packs for other flavours.
ACBS approved, prescribable on FP10 (GP10 in Scotland) for the following indications: disease related malnutrition, short bowel syndrome, intractable malabsorption, pre-operative preparation of patients who are undernourished, proven inflammatory bowel disease, following total gastrectomy, bowel fistulae and dysphagia.
1 – 3 servings per day as a supplement or as a sole source of nutrition, as recommended by the doctor. The dosage of Resource® Junior is dependent on the age, weight and clinical condition of the child.
Best served chilled. Shake before use. Once open, recap, refrigerate and use within 24 hours. If poured out of the pack, cover tightly and use within 6 hours. Unopened, store in a cool dry place.
Use under medical supervision. Only suitable from 1 year onwards. Suitable for use as the sole source of nutrition. For Oral/Enteral use only.
Typical values
Per 100ml
Per 200ml
General
Energy kcal
152
304
Energy kJ
637
1274
Fat (37% kcal) g
6.2
12.4
of which
saturates g
0.8
1.6
of which
monosaturates g
3.6
7.2
of which
polyunsaturates g
1.2
2.4
Carbohydrate (55% kcal) g
21
42
of which sugars g
5.2
10.4
of which lactose g
< 0.30
< 0.60
Fibre (0% kcal) g
0
0
Protein (8% kcal) g
3.0
6.0
Salt g
0.19
0.38
Download product data sheet
here
.
---
THE NESTLÉ HEALTH SCIENCE RANGE OF TAILOR-MADE NUTRITIONAL SOLUTIONS
Resource: A wide range of products formulated for people with special nutritional requirements, including burn and trauma victims, the elderly, cancer patients and those with swallowing difficulties
Nestlé Health Science produces a range of foods for special medical purposes (FSMP) for use under medical supervision. A sample product should only be requested for a patient if deemed suitable following a professional evaluation from an appropriate healthcare professional. Althera® and Alfamino® are infant FSMPs and should only be used after the full consideration of the feeding options available, including breastfeeding.
The Nestlé Health Science Sample Service is available to healthcare professionals only, who require sample products for professional evaluation when they have no sample product or if a patient has insufficient product to cover their needs. This service is not intended as a long term solution for a patient.
® Reg. Trademark of Société des Produits Nestlé S.A. Terms and conditions apply.

The following content is restricted for consumers only. You will be redirected.