DYSPHAGIA FOR CARERS
A GREAT RESPONSIBILITY
Dysphagia is common and can affect people of all ages.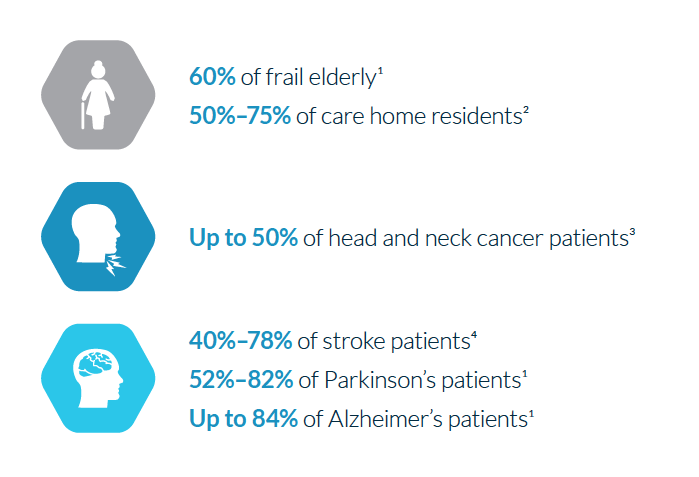 Caring for a person with dysphagia can feel like a big responsibility. Ensuring safe eating and drinking, every single day is something that will, hopefully, feel easier over time.
HOW TO RECOGNISE DYSPHAGIA?
Dysphagia may develop slowly, so it is important to know the signs and symptoms so that prompt action can be taken:
Slow eating or being unable to chew food
Gurgling, coughing or choking during meals
Regurgitation of food, sometimes through the nose
Multiple swallows of a single mouthful
Persistent drooling
A professional dysphagia diagnosis is essential. If a person in your care has difficulty swallowing or other signs of dysphagia, then your GP is the first place to go to. Some people can be slow to seek help and this must be avoided.
LEARN MORE ABOUT MANAGING DYSPHAGIA AS A CARER.
---
References:
Clavé P et al. Rev Esp Enferm Dig 2004; 96(2): 119–31.
O'Loughlin G et al. Dysphagia 1988; 13(3): 172–83.
Hayward MC et al. Semin Oncol Nurs 2009; 25(3): 203–11.
Martino R et al. Stroke 2005; 36(12): 2756–63.