We believe breast milk is the best food for infants. When in consultation with their healthcare professional, mothers and families find that optimal breastfeeding is not possible due to their infant's medical condition, formulas for special medical purposes play a vital role in providing essential nutrients to infants. We have a global commitment to market breast-milk substitutes responsibly.

This website is about the management of cows' milk protein allergy and nutritional solutions intended for infants. By continuing on this website, you accept that Nestlé Health Science supplies the information at your own request.


Are you a healthcare professional (HCP) or a parent?
What types of feeding tube are there?
The types of feeding tube are:
Nasogastric Tube (NG Tube)
Nasojejunal Tube (NJ Tube)
Percutaneous endoscopic gastrostomy (PEG)
Jejunostomy tube (J-tube)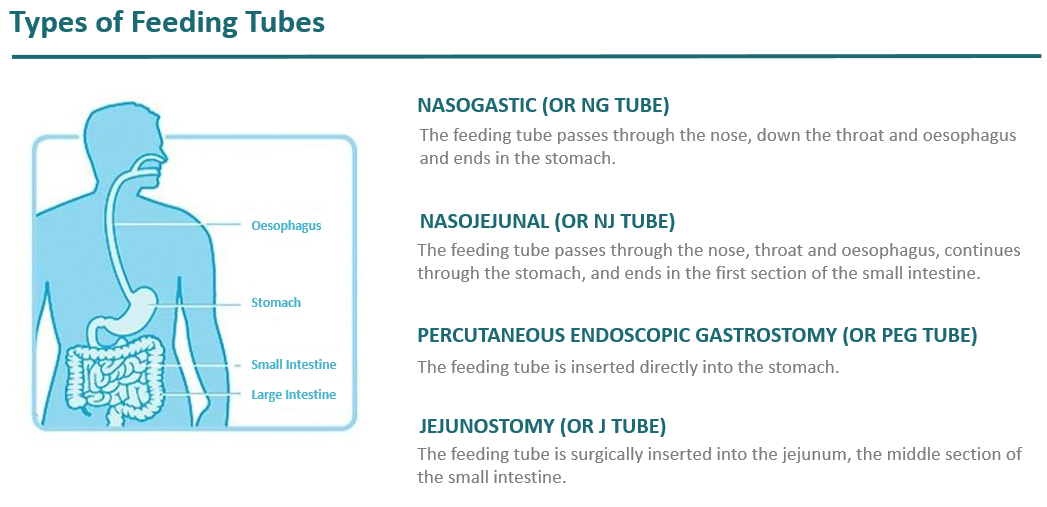 METHODS OF ENTERAL FEEDING
There are multiple methods to deliver an enteral feed to a patient. The following are some common feeding techniques.
Pump or continuous enteral feeding: The enteral feed is connected to a pump, which gradually delivers the nutrition at a controlled speed. The speed (or rate) and duration of the feeding should be discussed with the patient.
Bolus Feeding: As a dietitian, you may recommend bolus feeding as a way of receiving an enteral feed. The patient will receive the feed in small doses, given through a syringe several times throughout the day, instead of being fed continuously through a feeding pump.
Gravity Feeding: The enteral feed will flow out of the bag/bottle or syringe and into the patient's feeding tube by gravity. This can be done several times each day, like bolus feeding with a syringe; however, a gravity feed may take a little longer to be delivered.