What is the SmilesBack App?
SmilesBack has been created to help families to support their doctor to shorten the journey to appropriate CMA diagnosis and management.

SmilesBack is an easy-to-use app, developed with allergy experts and primary care physicians that allows parents to keep track of their baby's symptoms and feeds, share a summary of the relevant information with their doctor, and learn more about CMA signs and symptoms, path to diagnosis and management.
When can SmilesBack be used?
Before a diagnosis: SmilesBack can be used to help perform a faster and more accurate allergy focused clinical history and to fill in a CoMiSSTM (Cows' Milk-related Symptom Score) form to assess the likelihood of CMA.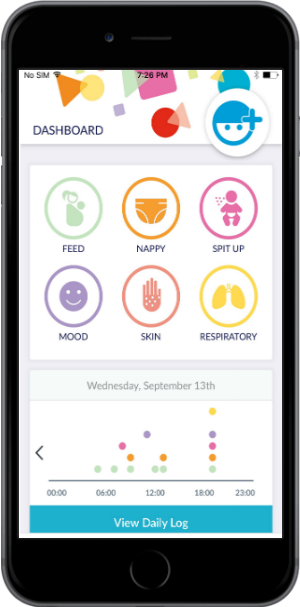 After CMA diagnosis: SmilesBack can support you to accurately monitor your patient's symptom evolution following your dietary recommendation, such as a cows' milk protein free elimination diet.
Expert designed one-page summary report
Key information recorded by the parent relating to their baby's symptoms and feeds are summarised in a concise, expert designed 1-page report to help you perform an allergy focused clinical history. By using the app and sharing the report with you (via email or print), parents will also be better prepared for their appointment and they can more efficiently and accurately communicate with you.


Information captured within the HCP report:
Infant profile (family allergy history, weight, gestation at birth, delivery method)
Feeding history (breastfeeding, maternal diet, formula or food)
Key events/symptom trends (crying, regurgitation, stools, skin, respiratory)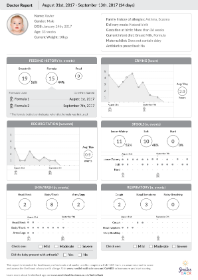 The report will furthermore also help you to fill in a CoMiSSTM form which will help you to assess the likelihood of CMA.
How the app can help you in your clinical practice

IMPORTANT NOTICE: Breastfeeding is the best form of nutrition for babies and provides many benefits to babies and mothers. It is important that, in preparation for and during breastfeeding, you eat a healthy, balanced diet. Combined breast and bottle feeding in the first weeks of life may reduce the supply of your own breastmilk, and reversing the decision not to breastfeed is difficult. Always consult your healthcare professional for advice about feeding your baby. The social and financial implications of using infant formula should be considered. Improper use of an infant formula or inappropriate foods or feeding methods may present a health hazard. If you use infant formula, you should follow the manufacturer's instructions for use carefully – failure to follow the instructions may make your baby ill. Formula for special medical purposes intended for infants must be used under medical supervision. SmilesBack and CoMiSS are not diagnostic tools. Always consult a healthcare professional if you have any concerns about your baby's health. SmilesBack and ComiSS are not diagnostic tools.

We believe breast milk is the best food for infants. When in consultation with their healthcare professional, mothers and families find that optimal breastfeeding is not possible due to their infant's medical condition, formulas for special medical purposes play a vital role in providing essential nutrients to infants. We have a global commitment to market breast-milk substitutes responsibly.
This website is about the management of cows' milk protein allergy and nutritional solutions intended for infants. By continuing on this website, you accept that Nestlé Health Science supplies the information at your own request.
Are you a healthcare professional (HCP) or a parent?