Please note Compleat® is currently available for hospital use only
Compleat® paediatric is a liquid nutrition feed for children who use a feeding tube. It comes in two bottle types: a 500ml bottle and a 250ml bottle called Compleat® paediatric (SimpLink®). If your dietitian has recommended the SimpLink® 250ml bottles, keep reading for more information on how to use it as a bolus, connecting directly to the feed tube, or via a pump.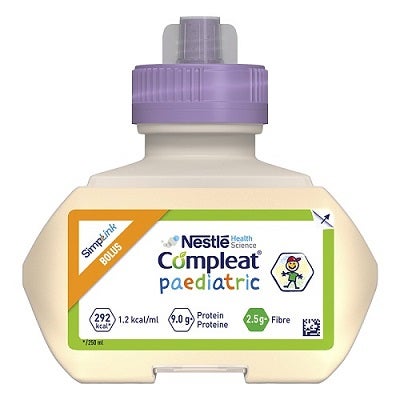 USING COMPLEAT® PAEDIATRIC WITH BLENDED DIET RECIPES
Because it contains food-derived ingredients*, some families use Compleat® paediatric as the base of blended diet recipes. The 250ml SimpLink® bottle offers an ideal volume to do so in line with our blended diet recipes, which were created in collaboration with Enteral UK and a professional chef.
Remember, do not start your child on a blended diet without speaking with your dietitian frst, and do not add food or medication to the SimpLink® or 500ml bottle.
*Compleat® paediatric contains 13.8% food-derived ingredients from rehydrated chicken, rehydrated vegetables (peas and green beans), peach puree and orange juice from concentrate. Compleat® paediatric is a food for special medical purposes for use under medical supervision.