SMA® Althéra® will soon be the only extensively hydrolysed formula (eHF)*,† made using non-porcine enzymes and will better meet the needs of infants with cows' milk allergy (CMA) following halal, kosher or vegetarian diets1-2
UNIQUE TO SMA® ALTHÉRA®
eHFs traditionally use porcine (pig) pancreatic enzymes to hydrolyse protein and many caregivers may not consider this to be suitable for their child due to religious or cultural reasons. Our new clinical trial recipe tested in the clinical trial will no longer use porcine enzymes and will instead use a microbial and plant‐derived enzyme blend.2
| | | | | | |
| --- | --- | --- | --- | --- | --- |
| | SMA® Althéra® - Clinical Trial Recipe | SMA® Althéra® - Current Recipe | Aptamil Pepti® | Similac Alimentum® | Nutramigen with LGG® |
| Made without porcine-enzymes1 | ✔ | x | x | x | x |
EQUALLY AS EFFECTIVE
The new innovative recipe has been tested in two clinical trials1,2 and has proven to be equally as effective in-vivo and in-vitro as the current SMA® Althéra® formulation for the dietary management of cows' milk allergy.1 In another clinical trial, SMA® Althéra® demonstrated similar efficacy to an amino acid formula (Neocate LCP®).3,‡
WHEN WILL SMA® ALTHÉRA® RECEIVE THE NEW INNOVATIVE RECIPE?
We anticipate the new recipe to be made available from April 2020.☩ All patients prescribed SMA® Althéra® at this time will be transferred to this new recipe. Please note, whilst independent halal/kosher certification of the factory may take place later in 2020, the new recipe will not contraindicate halal, kosher or strict vegetarian diets.
OUR COMMITMENT TO SAFETY
Research on the suitability of eHFs revealed significant differences in peptide composition, residual allergen content and sometimes batch-to-batch inconsistencies between eHF brands. "These differences in peptide composition and residual allergen content impact on the clinical efficacy and risk of allergic reactions to eHF".2 Learn more here.

In the new clinical trial, SMA® Althéra's® peptide and protein composition has therefore been published in full.1 You can read the full publication here.
---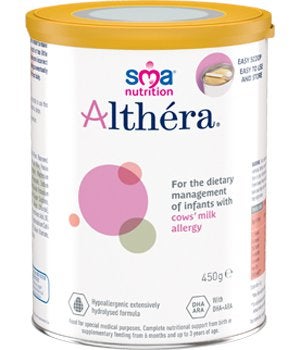 SMA® Althera®
Hypoallergenic extensively hydrolysed formula for the dietary management of mild-moderate CMA.
---
*
The factory and factory line is awaiting independent halal/kosher certification however the product contains only halal/kosher ingredients and will be now made with halal processing aids (e.g. using non-porcine enzymes for the protein hydrolysis process).
IMPORTANT NOTICE
Breastfeeding is best for babies. SMA
®
Althéra
®
and SMA
®
Alfamino
®
must only be used under strict medical supervision and after full consideration of the feeding options available, including breastfeeding. The advice of a doctor, midwife, health visitor, public health nurse, dietitian or pharmacist on the need for and proper method of use of infant milks and on all matters of infant feeding should be sought. Good maternal nutrition is important for the preparation and maintenance of breastfeeding. Introducing partial bottle-feeding may have a negative effect on breastfeeding and reversing a decision not to breastfeed is difficult. Social and financial implications should be considered when selecting a method of infant feeding. Infant milk should always be prepared and used as directed. Inappropriate foods or feeding methods, or improper use of infant formula, may present a health hazard.
REFERENCES
1. Nowak-Wegrzyn, A. et al. Hypoallergenicity of a whey-based, extensively hydrolyzed infant formula prepared with nonporcine enzymes. Allergy 2019, epub ahead of print.
2. Nowak-Wegrzyn, A. et al. Nutrients 2019; 11, 1447.
3. Niggemann B et al. Pediatr Allergy Immunol 2008; 194(4): 348–354.

The content you are trying to access is intended for healthcare professionals only.
Are you a healthcare professional?