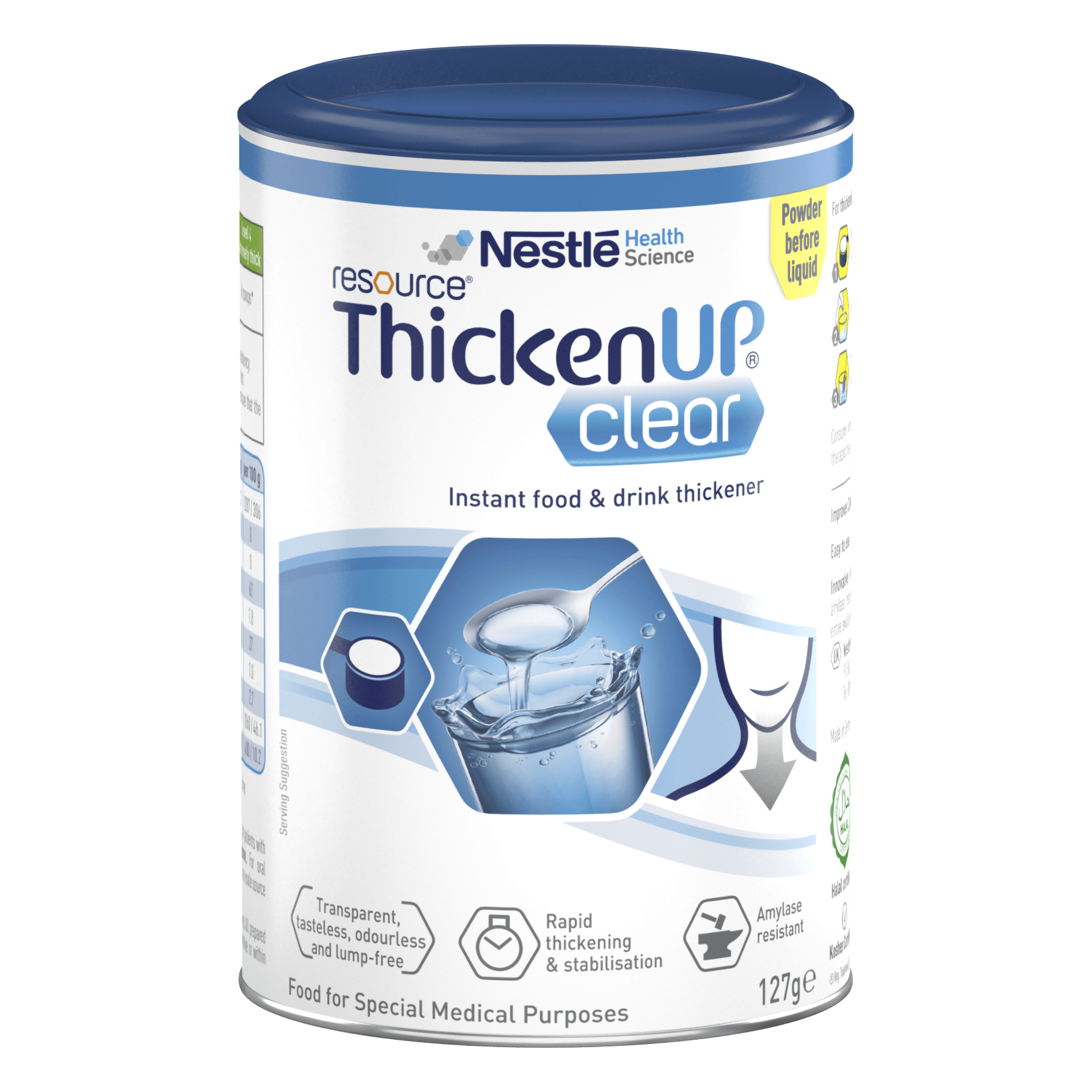 An instant thickening agent that can be used with both liquids and food to help manage dysphagia.
Resource® ThickenUp® Clear is designed specifically for the dietary management of patients with swallowing difficulties:
Improves swallowing safety without compromising efficacy
Easy to use – thickens and stabilises rapidly, remains clear and lump free over time
Keeps natural flavour and aroma of food and drinks
Can be used in hot, cold or fizzy liquids including tea, coffee, sparkling water and cola
Amylase resistant and demonstrates good GI tolerance
Can be used in patient's favourite recipes such as roast dinner and fish pie
Safer and more effective compared to starch-based thickeners
Resource® ThickenUp® Clear is suitable for those experiencing swallowing difficulties due to conditions including stroke, Parkinson's disease and multiple neurological disorders.
---
---
An instant thickening agent that can be used with both liquids and food to help manage dysphagia.
THE NESTLÉ HEALTH SCIENCE RANGE OF TAILOR-MADE NUTRITIONAL SOLUTIONS
Nestle ThickenUp® is an instant thickening agent that can be used to help with swallowing difficulties. Learn more:
Nestlé Health Science produces a range of foods for special medical purposes (FSMP) for use under medical supervision. A sample product should only be requested for a patient if deemed suitable following a professional evaluation from an appropriate healthcare professional. Althera® and Alfamino® are infant FSMPs and should only be used after the full consideration of the feeding options available, including breastfeeding.
The Nestlé Health Science Sample Service is available to healthcare professionals only, who require sample products for professional evaluation when they have no sample product or if a patient has insufficient product to cover their needs. This service is not intended as a long term solution for a patient.
® Reg. Trademark of Société des Produits Nestlé S.A. Terms and conditions apply.
References:
1. Development of a Non-invasive Device for Swallow Screening in Patients at Risk of Oropharyngeal Dysphagia: Results from a Prospective Exploratory Study. Steele, C.M., Mukherjee, R., Kortelainen, J.M. et al. Dysphagia 2019; 34, 698–707
2. The effects of a xanthan gum based thickener on the swallowing function of patients with dysphagia. Rofes L et al. Aliment Pharmacol Ther. 2014; 39(10): 1169-1179.
3. Data on file. Nestlé Health Science.
4. Hibberd J et al. Dysphagia 2011; 26: 432–75.
5. Effects of Bolus Rheology on Aspiration in Patients with Dysphagia. Leonard RJ et al. J Acad Nutr Diet. 2014 Apr;114(4):590-4
6. A comparative study between modified starch and xanthan gum thickeners in post-stroke oropharyngeal dysphagia. Vilardell N et al. Dysphagia 2016; 31(2): 169-179.
Footnotes and abbreviations:
GI, gastrointestinal
FAQ
Q: Is Resource® ThickenUp® just for liquids?
A: Resource® ThickenUp® can be used for both liquids and foods