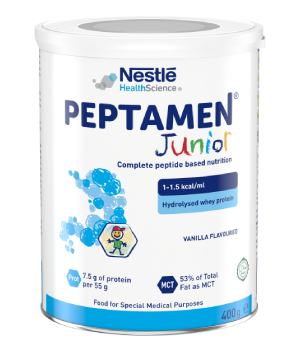 Peptamen® Junior Powder is a vanilla flavoured nutritionally complete, 100% whey peptide formula suitable for oral and tube feeding. It is designed to meet the energy needs of the most fragile and difficult-to-feed paediatric patients aged 1 to 10 years with or at risk of malnutrition, such as critically ill/stressed children; pulmonary, cardiovascular, hepatic, renal and head trauma patients; and children with more severe gut barrier dysfunction.
Powdered whey protein based formula for children aged 1-10 years with compromised or impaired GI function.
1 - 1.5 Kcal/ml
100% whey protein
3g protein per 100ml*
53% of fat as MCT
Low osmolarity
Osmolarity : 370mOsm/kg*
Osmolarity : 322mOsm/l*
400g re-sealable tin (with 7.86g scoop); 12 x 400g tins per case. Available in Vanilla flavour only.  
* standard concentration
---
Nestlé Health Science proudly offer a product Sample Service, delivering direct to your patients. To request your sample of Peptamen® Junior, simply click on the button below and follow the short sign up process. This will allow you to request your Peptamen® Junior sample as well as other Nestlé Health Science product samples available via the service.

400g re-sealable tin (with 7.9 g scoop); 12 x 400g tins per case.
Available in Vanilla flavour only.
Maltodextrin, peptides from partially hydrolysed whey protein (milk), sucrose, MCT oil, potato starch, vegetable oils (rapeseed, sunflower),minerals (calcium carbonate, potassium phosphate, sodium phosphate, magnesium chloride, sodium chloride, calcium chloride, ferrous sulphate, zinc sulphate, manganese sulphate, copper sulphate, potassium iodide, chromium chloride, sodium selenate, sodium molybdate), emulsifier (soy lecithin), acidity regulator (E330), flavouring, choline bitartrate, vitamins (C, E, niacin, pantothenic acid, B6, thiamin, riboflavin, A, folic acid, K, biotin, D, B12), taurine, L-carnitine, antioxidant (E304).
Halal and Gluten free.
Shelf life of 24 months from the date of manufacture. After opening the tin, store in a cool dry place.

Reseal the lid tightly. Consume the contents within 4 weeks. Once reconstituted use within 6 hours (at room temperature) or 24 hours if refrigerated
ACBS approved, prescribable on FP10 (GP10 in Scotland). Indicated as a sole source of nutrition for children aged 1-10 years on medical grounds for short bowel syndrome, intractable malabsorption, patients with proven inflammatory bowel disease and bowel fistulae.
Contraindications
Not suitable for patients with a cows' milk allergy.
Precautions
For oral/ enteral use only. Suitable for children above 1 year of age. Do not add food or drugs to the feed.
Suitable as a sole source of nutrition or as a supplement.

Recommended use: 500-2000 ml depending on child's nutritional requirement or as recommended by a healthcare professional.
Wash hands thoroughly. Follow mixing table below and select volume required.
Measure out cooled boiled water and pour in a clean bowl or container.
Scoop and level the desired amount of powder using the scoop in the tin or weigh in grams.
Add the powder to the water and immediately stir or shake until well mixed.
After use, store the scoop inside the can as shown on the label.
Table 1: Mixing guidelines for 250ml
| kcals** | mls of water | Powder in grams (g) | No. of scoops* |
| --- | --- | --- | --- |
| 250 (1 kcal/ml) | 215 | 55 | 7 |
| 313 (1.25 kcal/ml) | 200 | 70 | 9 |
| 375 (1.5 kcal/ml) | 195 | 80 | 10 |
Table 2: Mixing guidelines for 500ml
| kcals** | mls of water | Powder in grams (g) | No. of scoops* |
| --- | --- | --- | --- |
| 500 (1 kcal/ml) | 425 | 110 | 14 |
| 625 (1.25 kcal/ml) | 400 | 140 | 18 |
| 750 (1.5 kcal/ml) | 390 | 165 | 21 |
Table 3: Mixing guidelines for 1000ml
| kcals** | mls of water | Powder in grams (g) | No. of scoops* |
| --- | --- | --- | --- |
| 1,000 (1 kcal/ml) | 850 | 220 | 28 |
| 1,250 (1.25 kcal/ml) | 800 | 275 | 35 |
| 1,500 (1.5 kcal/ml) | 780 | 330 | 42 |
*Use the enclosed scoop only. Scoop size 7.9g
** Rounded to the nearest 25 Kcal