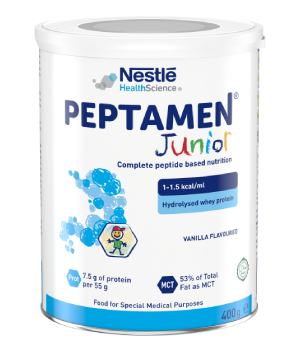 Peptamen® Junior Powder is a vanilla flavoured nutritionally complete, 100% whey peptide formula suitable for oral and tube feeding. It is designed to meet the energy needs of the most fragile and difficult-to-feed paediatric patients aged 1 to 10 years with or at risk of malnutrition, such as critically ill/stressed children; pulmonary, cardiovascular, hepatic, renal and head trauma patients; and children with more severe gut barrier dysfunction.
Powdered whey protein based formula for children aged 1-10 years with compromised or impaired GI function.
1 - 1.5 Kcal/ml
100% whey protein
3g protein per 100ml*
53% of fat as MCT
Low osmolarity
Osmolarity : 370mOsm/kg*
Osmolarity : 322mOsm/l*
400g re-sealable tin (with 7.86g scoop); 12 x 400g tins per case. Available in Vanilla flavour only.  
* standard concentration
---