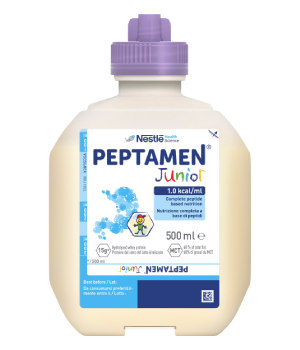 Peptamen® Junior products are nutritionally complete, suitable for oral and tube feeding. They are specifically designed to meet the dietary needs of fragile and difficult-to-feed paediatric patients aged 1 to 10 years with or at risk of malnutrition. This includes stressed or GI-compromised patients.
Designed for better feeding tolerance and absorption
1Kcal/ml
100% whey protein
60% of fat as MCT
3g protein per 100ml
Low osmolarity
Osmolarity : 330mOsm/l
Osmolality : 280mOsm/kg
Available in 500ml SmartFlex™ collapsible semi-rigid bottles for tube feeding. Also suitable for oral and bolus feeding.
---
Nestlé Health Science produces a range of foods for special medical purposes (FSMP) for use under medical supervision. A sample product should only be requested for a patient if deemed suitable following a professional evaluation from an appropriate healthcare professional. Althera® and Alfamino® are infant FSMPs and should only be used after the full consideration of the feeding options available, including breastfeeding.
The Nestlé Health Science Sample Service is available to healthcare professionals only, who require sample products for professional evaluation when they have no sample product or if a patient has insufficient product to cover their needs. This service is not intended as a long term solution for a patient.
® Reg. Trademark of Société des Produits Nestlé S.A. Terms and conditions apply.