For the effective first-line dietary management of formula-fed infants with cows' milk allergy1–7
Cows' milk allergy (CMA) – also known as cows' milk protein allergy – is one of the most common food allergies.8 It typically presents with >2 diverse and non-specific symptoms that affect >2 organ systems.9–13 Symptoms can be IgE (immediate) or non-IgE (delayed) mediated and may include:9–13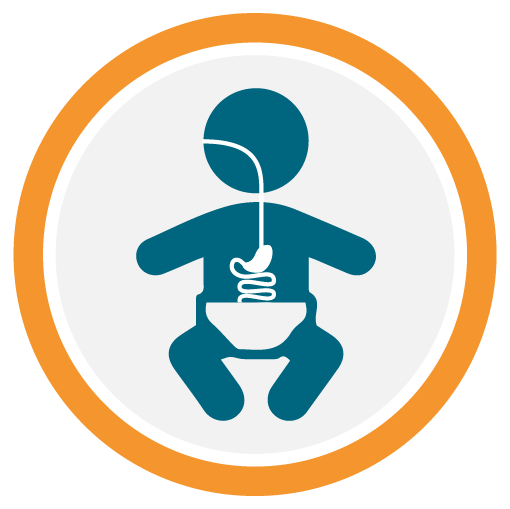 Digestive and General Symptoms
DISCOVER THE FIRST-LINE SOLUTIONS FOR CMA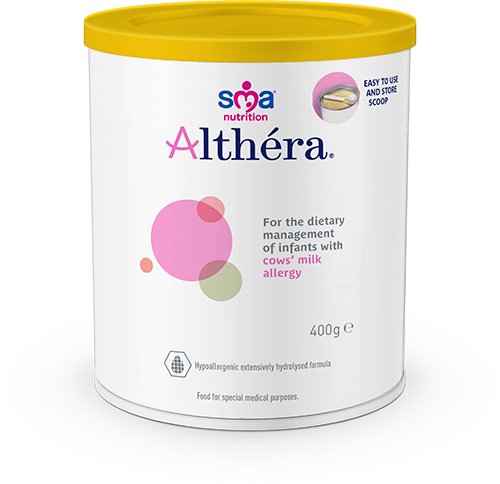 SMA® Althéra®
400g Tin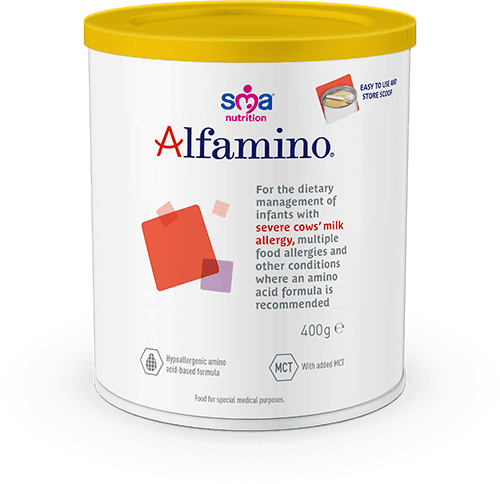 SMA® Alfamino®
400g Tin
---
Discover the first-line solutions for CMA
Calories (per portion)
67 per 100ml (standard 13.2% dilution)
Product Description
Hypoallergenic extensively hydrolysed formula for the dietary management of CMA
Calories (per portion)
70 per 100ml (standard 13.8% dilution)
Product Description
Hypoallergenic (non-allergenic) amino acid formula for the dietary management of severe CMA and/or multiple food allergies
References:
Niggemann B et al. Pediatr Allergy Immunol. 2008; 194(4): 348–354.
Vandenplas Y et al. Acta Paediatr 2013; 102(8): 990–998.
Meyer R et al. EMJ Allergy and Immunol. 2017; 2(1): 46–51.
Madrazo-de la Garza J et al. EMJ Allergy and Immunol. 2018; 31(1): 56–58.
Nowak-Wegrzyn, A et al. Clin Pediatr. 2015; 54(3): 264–272.
NHSc, Clinical Audits & Service Reviews: Leeds General Infirmary & Manchester Children's hospital. Data on file.
Corkins M et al. Medicine Insights: Pediatrics 2016; 10: 3–9.
Grimshaw KEC et al. Clin Transl Allergy 2016; 6:1
Koletzko S et al. JPGN 2012;55:221–9.
Fiocchi A et al. World Allergy Organ J 2010; 3: 57–161.
Santos A et al. Pediatr Allergy Immunol 2010; 21: 1127–1134
Høst A & Halken S. Endocr Metab Immune Disord Drug Targets 2014; 14(1): 2–8.
Luyt D, et al. Clin Exp Allergy 2014; 44: 642–672.
IMPORTANT NOTICE:
Mothers should be encouraged to continue breastfeeding even when their babies have cows' milk protein allergy. This usually requires qualified dietary counselling to completely exclude all sources of cows' milk protein from the mothers' diet. If a decision to use a special formula intended for infants is taken, it is important to follow the instructions on the label. Unboiled water, unboiled bottles or incorrect dilution can make babies ill. Incorrect storage, handling, preparation and feeding can eventually lead to adverse effects on the health of babies. Formula for special medical purposes intended for infants must be used under medical supervision.

We believe breast milk is the best food for infants. When in consultation with their healthcare professional, mothers and families find that optimal breastfeeding is not possible due to their infant's medical condition, formulas for special medical purposes play a vital role in providing essential nutrients to infants. We have a global commitment to market breast-milk substitutes responsibly.

This website is about the management of cows' milk protein allergy and nutritional solutions intended for infants. By continuing on this website, you accept that Nestlé Health Science supplies the information at your own request.


Are you a healthcare professional (HCP) or a parent?