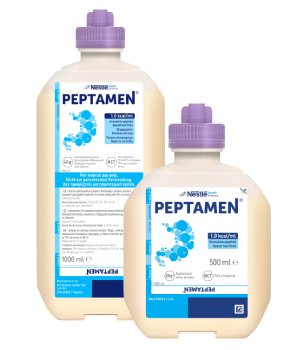 Peptamen® neutral flavour is a nutritionally complete Food for Special Medical Purposes for use under medical supervision.
WHO CAN USE PEPTAMEN® NEUTRAL?
Peptamen Neutral Flavour can be a great solution for those with impaired gastrointestinal function. Peptamen Neutral flavour via tube feeding can be used for critically Ill, including: Early enteral nutrition; Sepsis; Low albumin; Transition/weaning from parenteral nutrition Malabsorption/Maldigestion including: Pancreatitis; Chronic diarrhoea; Short Bowel Syndrome; Steatorrhoea; Gut atrophy; Malabsorption associated with HIV/AIDS.
Peptamen Neutral Flavour standard energy and protein
1Kcal/ml
100% whey protein
70% of fat as MCT
4.0g protein per 100ml
Osmolarity : 220mOsm/l
Osmolality : 265mOsm/kg
Available in 500ml and 1000ml SmartFlex™ collapsible semi-rigid bottles for tube feeding. Also suitable for oral and bolus feeding.
---
Nestlé Health Science proudly offer a product Sample Service, delivering direct to your patients. To request your sample of Peptamen®, simply click on the button below and follow the short sign up process. This will allow you to request your Peptamen® sample as well as other Nestlé Health Science product samples available via the service.

SmartFlex™ uses state-of-the-art design and production techniques to create innovative packaging across the Peptamen® range of enteral feeds:
Easy to use and administer
Universal cap means SmartFlex™ fits all commonly used giving sets without an adaptor
High quality design and production with closed system
The only collapsible semi-rigid packaging for compact and safe disposal
Easy to administer for bolus feeding
Water, maltodextrin, peptides from partially hydrolysed whey protein (milk), MCT oil, soybean oil, minerals (sodium phosphate, calcium citrate, magnesium chloride, potassium chloride, sodium citrate, potassium citrate, sodium chloride, magnesium oxide, calcium phosphate, ferrous sulphate, zinc sulphate, manganese sulphate, copper sulphate, sodium fluoride, chromium chloride, potassium iodide, sodium selenate, sodium molybdate), emulsifiers (soy lecithin, E471), stabilisers (E412, E407), vitamins (C, E, niacin, pantothenic acid, B6, A, thiamin, riboflavin, folic acid, K, biotin, D), choline chloride, taurine, L-carnitine.
Gluten free.
* Used enzyme non-Halal/Kosher. Clinically nil lactose.
ACBS approved, prescribable on FP10 (GP10 in Scotland). Indicated for patients as a sole or supplemental source of nutrition on medical grounds for short bowel syndrome, intractable malabsorption, proven inflammatory bowel disease and bowel fistulae.
Contraindications
Not suitable for patients with cows' milk protein allergy.
Precautions
For enteral use only. Suitable for those above 3 years of age. Do not add food or drugs to the feed.
Important to shake well before use. Unopened, store in a cool dry place. Once spiked use within 24 hours. Unused portion can be recapped, refrigerated and consumed within 24 hours of opening. If poured out of the pack keep tightly covered and consume within 6 hours if at room temperature.
| Product | Unit Size | Case Size | PIP Code | Line Code |
| --- | --- | --- | --- | --- |
| PEPTAMEN Neutral Dual 12x500ml XI | 500ml SmartFlex™ | 12 | 271-3568 | 12383170 |
| PEPTAMEN Neutral Dual 9x1L XE | 1000ml SmartFlex™ | 9 | 271-3576 | 12383174 |
---
THE NESTLÉ HEALTH SCIENCE RANGE OF TAILOR-MADE NUTRITIONAL SOLUTIONS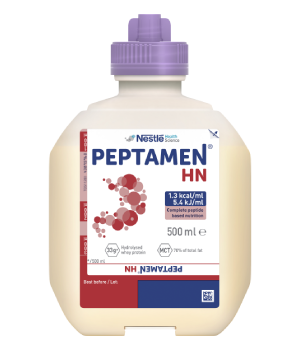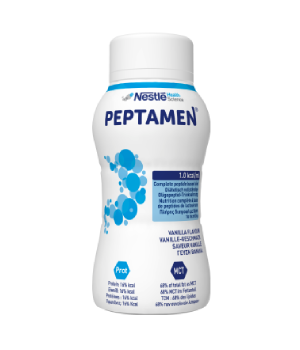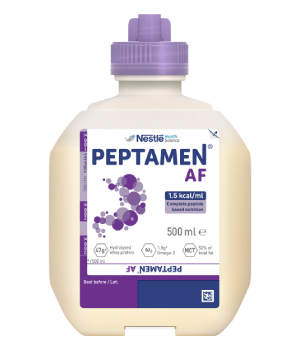 Peptamen Neutral Flavour is designed for critically ill patients with nutritional needs. Learn more: /h2>
Nestlé Health Science produces a range of foods for special medical purposes (FSMP) for use under medical supervision. A sample product should only be requested for a patient if deemed suitable following a professional evaluation from an appropriate healthcare professional. Althera® and Alfamino® are infant FSMPs and should only be used after the full consideration of the feeding options available, including breastfeeding.
The Nestlé Health Science Sample Service is available to healthcare professionals only, who require sample products for professional evaluation when they have no sample product or if a patient has insufficient product to cover their needs. This service is not intended as a long-term solution for a patient.
® Reg. Trademark of Société des Produits Nestlé S.A. Terms and conditions apply.
FAQs
Q: How do you use Peptamen Neutral Flavour?
A: Peptamen Neutral Flavour is for enteral tube feeding

The following content is restricted for consumers only. You will be redirected.